About 90 PLWD Receives Support From Ajumako District Assembly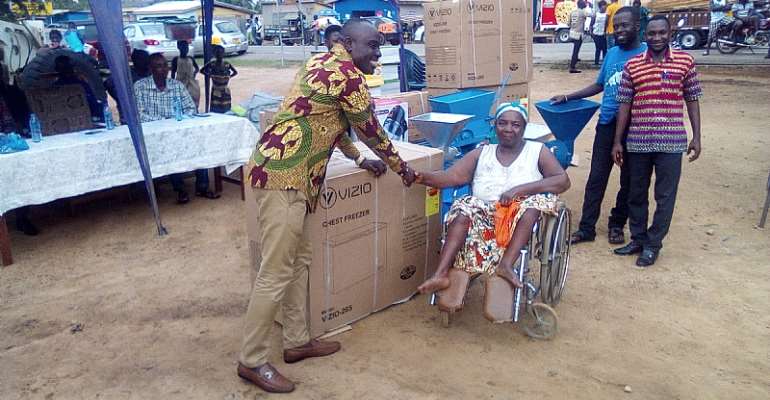 The DCE for Ajumako Enyan Essiam District, Rev. Ransford Kwesi Nyarko has cautioned beneficiaries of the disability fund under the district assembly common fund not to use monies given them for personal up keep.
But invest in sustainable ventures to take care of themselves. The DCE gave the advise today at a presentation ceremony in Ajumako.
He hinted, a monitoring and evolution team will pay unannounced visits to beneficiaries to ensure that the support is put into good use.
The President of the federation of people with disability, Mr. Isaac Eshun, expressed regret at the challenges they go through when looking for a job.
"We have intellectual ability to do lots of things to help develop the country but people always shorn our company in public," he stressed.
An amount about GH80.00 was spent both in cash and as business capital, whilst others especially those in special schools had their fees paid.
Additionally, some was used to purchase income generating activity materials and appliance for the PLWD.
On her part, the Social Welfare Officer, Mrs Abena Serwah Opare indicated that the presentation of white canes, wheels chairs and other devices in addition to series of workshops organized for the PLWD is to give them meaningful life, in order to avoid the habit of some of them walking aimlessly in the society.
The chairman of the Social Services Committee of the assembly, Mr. Noah Danso, maintained that the legislation governing the use of the disability fund clearly indicate that it should be used to support Income Generation Activity (IGA) and education of PLWD so that the fund will generate profit for the sustainability of the beneficiaries in order not to be a burden to society.
He observed that even though, Deaf, Dump and blind students are exempted from paying fees, there is the need to support their up keep in order to keep them in school and get the needed education.
According to him three (3) university students, in University of Ghana, Legon, University of Education and University of Cape Coast are being supported periodically with tuition fees.
Mr. Danso noted that as part of plans to ensure effective administration system at the association office, a laptop computer with colour printer have been provided to help them print their own ID cards and other administrative letters.
He thanked the assembly and the association of people living with disability for their continuous support.