Why Amidu Can't Work Effectively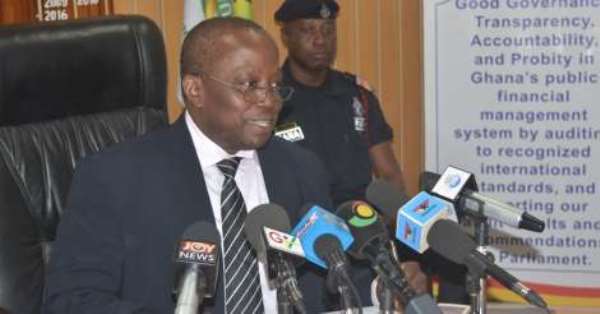 The Auditor General Daniel Demelovo has said that the Special Prosecutor cannot work effectively because of the circumstances he finds himself in.
He was speaking at the third memorial lecture of a former Finance Minister Kwadwo Baah Wiredu.
He explained that the Special Prosecutor does not have an investigator. Mr Amidu only has one secretary. He urged Ghanaians to visit the office of the Special Prosecutor and judge for themselves if he has been equipped with the needed items and human resource to do the job.
'Our collaboration I believe can bring about the deterrence that we require in the public sector, but I want to submit that the Special Prosecutor is not sitting well at all. There is no way he can be effective where he is seated.'
'I want to invite all of you to visit him but I won't tell you why. Go and visit him and you would see whether you can be effective with only one secretary with no investigator and prosecutor, nothing,' he added.
Despite the challenges Mr Amidu is facing as Special Prosecutor, Mr Domelovo said he is ready and willing to work with him in the fight against corruption.
In a related development, the Commissioner for Human Rights And Administrative Justice (CHRAJ) Joseph Whittal also said the office of the Special Prosecutor must be staffed and equipped to deliver on its mandate.
'For once in our history, we have paid attention to corruption and that is why we have the office of the SP. The office of the SP should be empowered. I am not happy that the office of the SP does not have enough infrastructure. The Special Prosecutor doesn't seem to have enough staff. All I am saying is that the office of the Special Prosecutor is not empowered enough. How can we get results when the office has just a handful of staff…I don't even know if they have a budget,' he said.
Their comments are coming at a time when most Ghanaians are questioning what Martin Amidu is doing as Special Prosecutor. Most people argue that as a citizen vigilante he did his best to fight corruption and they are therefore expecting more from him as SP.
However, he does not seem to be meeting the expectations of the general public after most people applauded President Akufo-Addo for appointing a man like him.