Kweku Adoboli Denies Saying Ghana Is Worse Than Prison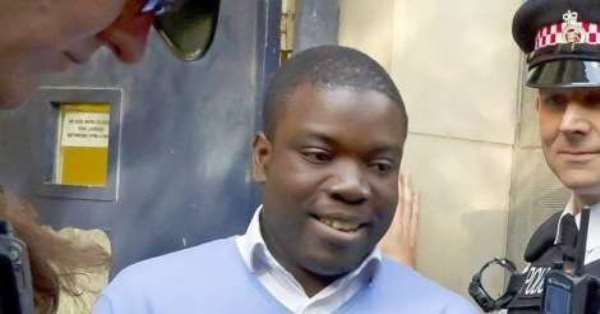 Kweku Adoboli , the former UBS banker jailed for the UK's biggest ever fraud has denied stating that deporting him to Ghana is a worse punishment than being jailed in the UK.
He told Joy FM's Israel Laryea that the publication was culled from an interview he had granted the BBC in which he said banishment is a punishment much worse than being in prison.
'I've served my time, but I'm being given an extra punishment - a banishment - and just because I didn't get around to becoming a citizen. This punishment is so much worse than being in prison,' the article in referred to quoted him as saying.
The rogue banker was due for deportation to Ghana on September 18 after serving a four-year jail term. He, however, got a a last minute reprieve after a judge awarded a judicial review of the embattled banker's case.
He was convicted by the UK authorities in 2012 over his involvement in a £1.8 billion fraud at Swiss bank UBS.
He was released in 2015, but was later taken into custody again and is currently being held by Scotland Yard authorities.
But following news of his imminent deportation, 113 MPs and MSPs in the UK wrote to the Prime Minister and Home Secretary to demand they intervene to stop the deportation.
In a last-minute effort to prevent his deportation, Adoboli's lawyers submitted an application for a judicial review of his case.
And, fortunately for him, a judge has granted the appeal for judicial review and injunction against deportation.
This means Adoboli will be freed from an immigration removal centre near Heathrow airport and subsequently released on bail until the outcome of the judicial review.
Meanwhile, the judicial review is expected to take several months (currently unspecified) before its outcome is made public.
'Common sense has broken out: sending a 38-year-old man to a country where he has not lived since the age of four was always madness, given that he has lived in Britain since the age of 12 and the UK is where his friends and partner live and where his family life is based. It is unquestionably his home. Let's hope that will be the judgment, as and when it is made,' Adoboli's lawyer, Jacqui McKenzie said following the last-minute reprieve for his client.