Uganda's pop star MP returns home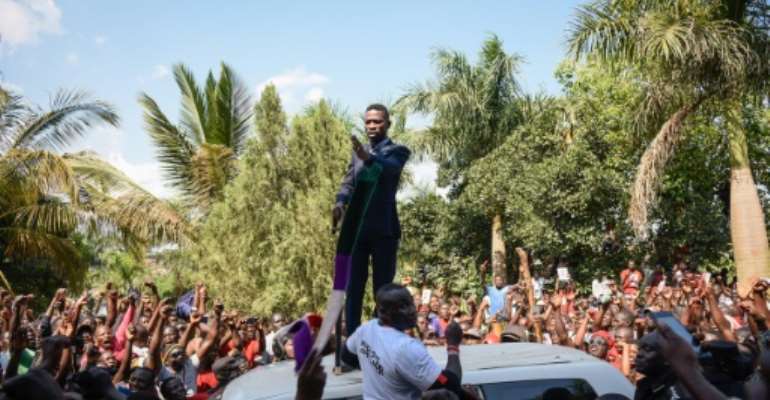 Ugandan pop star turned opposition MP Robert Kyagulanyi returned from medical treatment abroad on Thursday to be met by police who forcibly escorted him to his home in the capital Kampala.
Since entering parliament last year, Kyagulanyi, 36, and better known as pop star Bobi Wine, has emerged as a leading critic of President Yoweri Museveni, a 74-year-old former rebel leader in charge since 1986.
Kyagulanyi has become an opposition firebrand, commanding widespread support among Uganda's youthful, urban population, earning him the government's ire.
He faces treason charges, alongside more than 30 others, after Museveni's motorcade was stoned by opposition supporters during a by-election in the northwestern town of Arua last month.
Kyagulanyi claims he was beaten and tortured in custody after being arrested, and sought medical care in the US.
His rough treatment at the hands of the government sparked street protests and on Thursday security forces took no chances.
Riot police and soldiers were deployed in the city, and access to the airport at Entebbe, 40 kilometres (25 miles) away, was tightly controlled with checkpoints and road closures.
In the past, Museveni's returning opponents have been greeted by large crowds that turned into an slow hours-long procession towards the capital marked by clashes between police and supporters.
Upon arrival, Kyagulanyi was separated from other passengers and bundled into a police vehicle without explanation.
His wife, Barbie, told AFP "security surrounded him and took him away".
A new challenge
Kyagulanyi's international lawyer, Robert Amsterdam, condemned his client's "illegal detention" which he said was "based on the fear of the power of the people".
But Uganda's police chief, Martin Okoth Ochola, said officers were merely providing a safe escort service.
"What we have done is to escort him from Entebbe airport to his home," Ochola said.
Police had earlier banned "unlawful rallies, processions and assemblies".
But outside his house, officers watched as Kyagulanyi stood on the roof of a car to address a crowd which had gathered to welcome him.
"It's great to finally be home," he said to cheers.
"So many police officers grabbed me from the plane, they searched me took away my passport and all the documents," he said, but did not allege any mistreatment this time.
Speaking to AFP afterwards, Kyagulanyi was unbowed.
"To the youths and underprivileged of Uganda, this is your struggle and I am ready to take the leadership role," he said.
"Uganda is ready for change and this is not the time to let down that call."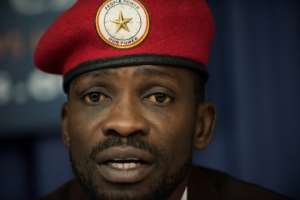 Kyagulanyi is nicknamed 'His Excellency the Ghetto President'. By Eric BARADAT (AFP/File)
Nicknamed "His Excellency the Ghetto President" during his pop star days, when he blended lyrics on social justice and poverty with catchy Afrobeat rhythms, Kyagulanyi is rare among a political class dominated by older Ugandans.
His relative youth and broad popularity represent a new challenge to Museveni's long rule.
In power for more than three decades, Museveni is the only president most citizens have ever known, in a country where the median age is less than 16.
He has had the constitution amended twice, to remove term and then age limits, clearing him to run for a sixth term in 2021.