Yankah Either Ignorant Of The University Of Education, Winneba (UEW) Issues, Or Possessed By The 'Demons' Of Ackorlie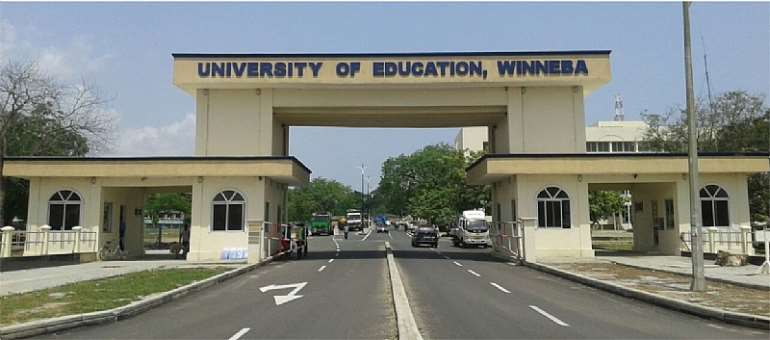 Kojo Yankah of the African University College of Communication (AUCC), has blamed political interference for the recent University of Education, Winneba (UEW) brouhaha.
As someone into communication (he doesn't merit the title of communication expert), did he spend time and energy to delve deeply into the UEW issues before making that unprofessional statement? Obviously NO! If he had bothered to leave the comfort of his office and go to any of the UEW campuses, and talk independently to any of the stakeholders of UEW, especially UEW 'key' stakeholders (students), his position would have been totally different.
I tried not to rope in his brother, that is Prof. Kwesi Yankah, the Minister in-charge of Tertiary Education, who in a similar manner, made 'unministerial' statements about the dismissal of Prof. Avoke (whom I respect so much, but the 'pungent smell' of Ackorlie around him, gives me reactions), and the subsequent appointment of the Very Rev. Fr. Prof. Afful-Boni, as the Vice-Chancellor (VC) of UEW, to no avail.
Prof. Kwesi Yankah, failed to go through the pile of documents on his desk, upon his arrival from his trip abroad, where he had been when the dismissals and appointment at UEW, were made. The Minister, Kwesi, failed to read, and his brother, Kojo, the founder of AUCC, also classically followed suit, by lazily failing to educate himself properly on the UEW issues before making his self-destructive public comment about UEW. Birds of identical plumage, congregate under the same proximity!!!
The appointment of Prof. Avoke, as VC of UEW, was political. I dare the cabal that orchestrated Prof. Avoke's appointment as VC of UEW, to swear by any of their shrines in the world, to deny the fact that Prof. Avoke's appointment as VC of UEW, was non-political!! Let them swear that huge moneys did not change hands!
The roles of Okudzeto Ablakwa, Hon. Kpodo, and the grand 'thief-cum-voodoo' priest, are open secrets. There is no hardcore evidence to support this, except whispers from the corridors of power during John Mahama's administration, so those who patronize, revere, and worship their shrines, should invoke them in public, to absolve themselves!
Kojo Yankah has forgotten that, just as the 1992 Constitution permits him to spew out baseless and useless statements, so too does it grant every eligible Ghanaian, the right to freely participate in the general Ghanaian politics, and student politics in particular. Therefore, his advice to students of public tertiary institutions in Ghana to shun students politics, is capricious, to say the list.
I challenge Kojo Yankah, to admit publicly that there is no student politics at his 'chamber and hall' African University College of Communication!
It is apparent that, the 'demons' of Ackorlie, are firmly in control of the Yankah brothers!!!
Alhassan Salifu Bawah
(son of an upright peasant farmer)