Ghana Health Service Fights Cataract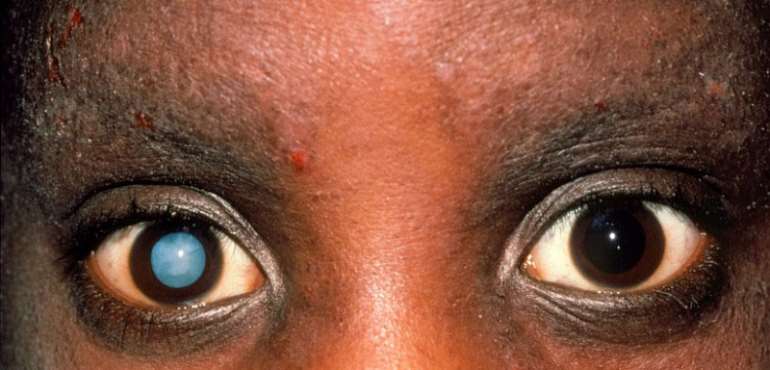 The Ghana Health Service (GHS) has urged the public and all stakeholders to play their utmost roles to prevent debilitating eye conditions such as cataract, glaucoma and diabetic retinopathy.
Cataract has been found to be the leading cause of blindness in Ghana, contributing to nearly 55 per cent of all blindness, followed by glaucoma and diabetic retinopathy with 19.4 and 12.3 per cent respectively.
At the official launch of the National Cataract Outreach Programme (NACOP) held at Koforidua, Dr Anthony Nisah-Asare, Director, Ghana Health Service, said the prevalence of blindness in the country is at 7.4 per 1,000, representing 207,200 people living with blindness, while severe visual impairment is 10.7 per 1,000, representing 299,600 people living with visual impairment.
Dr. Nsiah-Asare added that GHS is also going to integrate screening of diabetics at the teaching, regional and district hospitals in all regions of the country.
He explained that more emphasis would be put on intensifying public education on common causes and prevention of blindness.
The Acting Eastern Regional Director of Health Service, Dr Albert Antobre-Boateng, revealed that the region recorded 1,028 cataract cases in 2016, and the surgical rate for that year was 339, whilst 773 cases were recorded in 2017 with a surgical rate of 249.
He said the region is fortunate to have benefitted from NACOP because it has been implemented in two health facilities at Suhum and Tetteh Quarshie Memorial Hospital with a total surgery of 200.
Dr. Antobre-Boateng indicated that the Eastern Regional Health Service has the requisite resources in terms of qualified professional staff, health facilities and equipment to combat cataract and other eye conditions.
The international representative of the Himalayan Cataract Project, Ms Pamela Clap, said her organisation has been working in Ghana since 2006 and it has expanded the partner institutions they have supported over the years.
The country representative of Himalayan Cataract Project, Dr Oscar Debrah, added that country needs to do about 154,000 cataract surgeries every year, "unfortunately in Ghana we are doing just about, 40,000 less than one third of what we supposed to do."