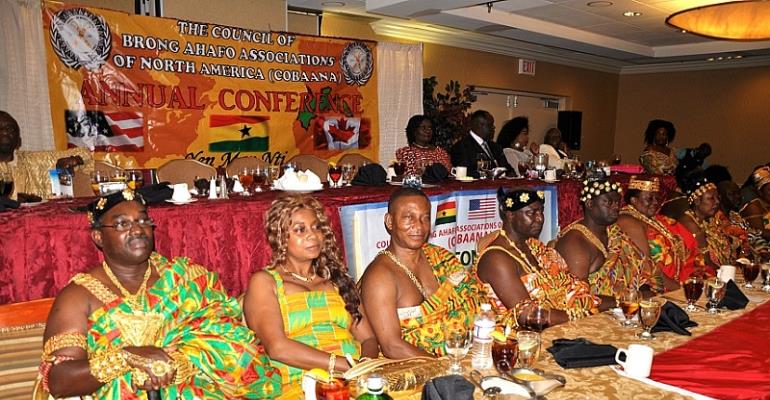 " YE MAN NTI ENYE YEN NTI"
The Yearly Convention of Cobaana (Council of Brong Ahafo Associations' of North America) was hosted by the Connecticut Chapter for two days. On the morning of Saturday 1st September, all the various Chapters arrived in Cromwell. At around 11.00am breakfast was served to members and after, there was a meeting to discuss what was done last year and the much anticipated welfare for members with suggestions and also on what will be done next year. There was elections to appoint new members to steer the affairs of the Association for the next four years. After that, proceedings were brought to an end for members to retire and rest for the night's main event which was the fund raising.
The fund raising was held at the Red Lion Hotel in Cromwell and the theme was " Education---Powerful Tool for Development ". Members were gorgeously dressed for the occasion in their splendid Kente cloths and that made everybody proud to be a Ghanaian with a rich culture. The Chairperson made us know the reason for the Convention. The guest of honour was Dr, Kofi Atta Mensah who talked about Education in Ghana and said the country must be self sufficient after 60 years of Independence. He appealed to everybody to donate generously when the time comes.
After that the three national anthems of USA, Canada and Ghana were sang by a young lady. The Chiefs and Nananom were ushered into the hall in their expensive Kente cloths and intricate ornaments, dancing to the beat of Fontomfrom. This really elevated the Ghanaian culture to a different pedestal. The outgoing Chairman Mr, Alex Ankomah of Toronto also spoke about the youth. That they should be encouraged to step into our shoes and also inculcate them with a respect for culture. He also talked about the new officers going to be ushered in, that they should respect the people they were going to serve and not blow their tops on them.
A number of guests like Solomon Forjour (NPP USA), Charles Dankwa, Dr Abrefa Gyan, Daniel Asare, Ransford Antwi (Director of SunCity Fm), Dr Kofi Barimah and the Honourable Dr Nuamah (MP) for Berekum East were all present. Dr Nuamah spoke about education and what he had achieved from it. He offered to be the representative of Cobaana in Ghana. The speeches were interspersed with music for all the Associations to warm themselves up prior to the fund raising. Connecticut, Columbus, Denver, Dallas, New Jersey (Newark and Trenton), Delaware, Cincinatti, Worcester and Atlanta. The Director of SunCity Fm, Mr Ransford Antwi also gave a speech on how we should help the people who are always in need and also try to help the community move forward and not to adopt the "me, myself and I" attitude. He pledged to help Cobaana each year with a $1000.
Appeal for fund was the next on the agenda and it took different forms. The Presidents' from each Association were bailed out $100 each. Kofi/Amma was the next. Then came the Cobaana King and Queen for 2018. The newly elected officers were sworn in. Chairman---Samuel Tandoh, Vice---Opoku Appiah, Secretary---Augustine Boahen, Vice---Thomas Kyeremeh, Financial Secretary,---Bentsil, PRO,---Seth Bonsu, Vice---Henrietta Agyei, Treasurer---Felicia Okyere. Presentation of awards were given out to some outstanding members. Mr Gottfried Amo, Nana Serwaa Nyarko (II), Nana Adu Gyamfi, Ibrahim Musa, Abena Pokuaa and Toronto Chapter. After that it was dancing till 2.00am Sunda,y when everything came to an end.
Sunday, September 2nd was the Picnic day and Health Fair at the Nevers Park (South Windsor). Members were there around 1.30pm and there was a talk by a Ghanaian doctor on health issues. He appealed to members to take good care of their health and should never hesitate to see their doctors when the need arises. Also they shouldn't let Immigration issues be a hindrance to their health. There was also a Ghanaian Lawyer who briefed members on Immigration.Their do's and dont's and how to get help when it becomes necessary. The "Azonto" competition for the Youth was next in line and the skills in dancing were on display and this made the adults jealous. Prices were given out for the first three competitors. The adults also had their chance to strengthen their weak bodies with music from the 80's to the 90's in Highlife, Hiplife and Hiphop. Food and drinks were in abundance till late in the evening when all came to an end.
The message from the faces of most members was " till death do we part with Cobaana". Next year's Convention will be at Columbus (Ohio) so members were asked to go and preach the good name of Cobaana to all people in every State and City and those who will be interested should be brought to Columbus next year. In sum, the 2018 Cobaana Convention in Connecticut was a huge success.
Seth Bonsu.
(PRO, Cobaana)
([email protected])