Asokwahene Of New Juaben To Be Honored At 3G Awards In NY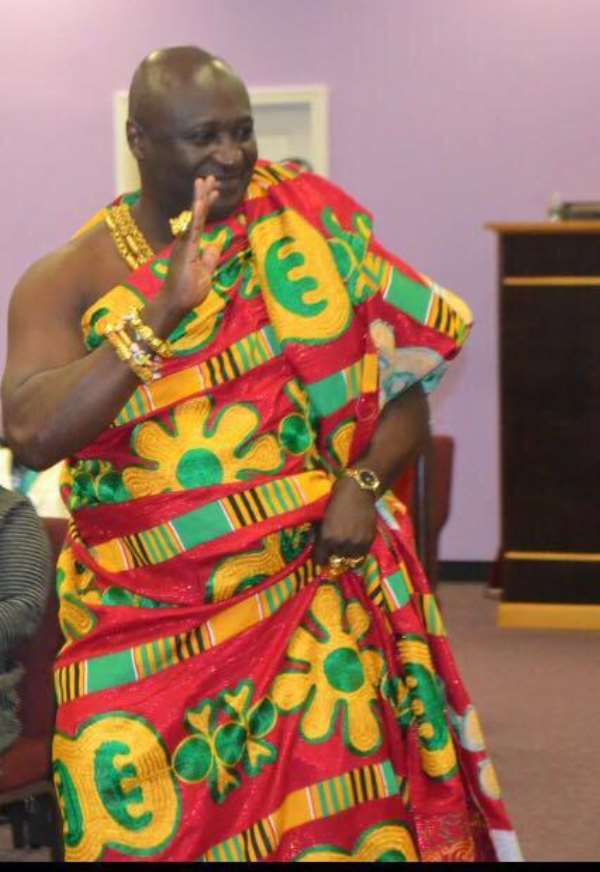 3G Media, The US-based online news and entertainment company is proud to announce that Nana Awuah Panin III, Asokwahene of New Juaben (Koforidua) is to be honored at the 8th Annual 3G Awards in New York. Known in private live as Mr. Harry Danso, the Worcester based Chief and Community leader is among the noted distinguished personalities gracing the occasion.
Nana Panin III, very humble and deep-rooted in his community and familiar at the city hall has been featured previously in the Boston Globe; "The king of Worcester rules in two worlds - The Boston Globe By Maria Sacchetti GLOBE STAFF SEPTEMBER 09, 2016 - https://www.bostonglobe.com/metro/2016/09/08/the-king-worcester-rules-two-worlds/PT4OiXoY00DAJ2lXYNt5mM/story.html
The piece describes Nana Panin III as "One of scores of royal chiefs there, he wears a gold crown and colorful kente cloth, resides in a palace, and rides around town with a chauffeur. But in Worcester, he is just Harry, a middle-aged middle manager at an endoscopy company who paints his own deck and gently discourages his Ghanaian coworkers from calling him "nana." the word for royal chief.
Danso, who came to the United States in1985 is a chief in the Asokwa area, which includes his hometown of Koforidua. He and other Ghanaians in Worcester raise money through a nonprofit, the New Juaben Association of New England, to send X-ray machines, gloves, and syringes to the area's cash-strapped hospital.
In Worcester, Danso plays a different role, serving as a counselor and guide for immigrants. He teaches them how to find jobs, deal with landlords, and contend with discrimination.
In 2011, he was named to Worcester's Human Rights Commission, a city agency that seeks to ensure that all residents are treated fairly.
3G Media produces this annual event and this 8th edition will be held on Saturday, November 10th, 2018 starting 9pm. The venue is; Grand American Ballroom, located on 899 Westchester Ave, Bronx, NY 10459. The event dubbed; "A Night of Heroes" recognizes the sacrifice and dedication of the leading trailblazers of the greater Ghanaian and Global communities.
Past honorees of the 3G Awards Gala have included; The Nation's Prophet; Apostle Owusu Bempah, Hollywood Actor Abraham Attah; Former New York Senator, Hassel-Smith, Boxing Legend; Michael Spinks, Hon. Kennedy Ohene-Agyapong, MP, Tommy Smythe, ESPN's Sports Presenter/Analyst; Boxing legend, Azuma Nelson; Dr. Akwasi Appiah; The Black Stars' Captain, Asamoah Gyan; and many others. Among the organizations supporting are; Ghana Chamber of Commerce USA, Investigroup, Prestige Travel and Tours, Adinkraradio, Amansanradio, Keymama, Modernghana, Anokyekrom, Malata African Market, AB African Market, Nyamekye African and GhanaWeb..