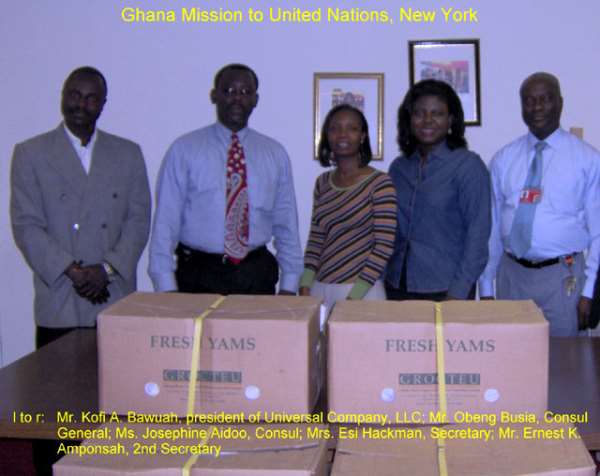 Fresh Yams imported via air, new regulations makes transportation by sea illegal and heavily enforced New York, NY – (October 18, 2005) -- One of the most hardworking and prominent Ghanaian businessmen in the USA; Mr. Kofi A. Bawuah, President of the Woodbridge, New Jersey based shipping heavyweight; Universal Company, LLC was in New York City on Friday, October 7th to make a presentation of the pride of Ghana; fresh yams to the Ghana Consulate and Permanent Mission to the United Nations. The donation of nearly five hundred pounds of fresh yam was received on behalf of all the employees at the Mission by His Excellency; Mr. Obeng Gyan Busia, Consul General of the Mission and other members of his staff.
The yams were imported via air freight under the auspices of the new yam export regulations promulgated by the Minister of Trade, Honourable Alan Kyerematen. According to Mr. Bawuah, "These yams were part of a shipment of over 180,000 pounds and, because they arrived in New York only 72 hours after leaving Ghana, they were without any spoilage whatsoever."
Universal Company is a charter member of the Ghana Yam Importers of North America (GYINA) a group of importers that has come together to promote and market Ghana fresh yam in the United States and Canada ([email protected]). "We are very excited that larger and larger volumes of fresh yam are now being imported via air freight," said Mr. Bawuah. "Most important, wholesale and retail prices are already coming down and as volumes continue to grow, prices will drop further. The result will be the best combination of stable, affordable prices, and consistent high quality."
The yam export sector has undergone a major restructuring over the past year designed to eliminate spoilage, improve profitability for yam farmers and exporters, and grow the largest foreign market for one of Ghana's key natural resources. Mr. Bawuah gives broad credit for the changes calling the restructuring "a collaborative effort requiring the full support and co-operation of many industry stakeholders. This donation is a small token of our appreciation for all the support we received in our efforts to promote one of Ghana's most popular products."
Some fresh yams continue to be smuggled in via ocean freight although authorities are clamping down on the illegal practice. Government support is crucial to enable the industry to flourish and grow, which is in the public interest and a benefit to the entire country. Ocean shipment of fresh yams to the USA is blight to Ghana as they result in large amounts of rotten food coming to North America; something the U.S. Food and Drug Administration (FDA) is also frowning upon. There is a move in place to clamp on operators of such illegal practice.
Mr. Busia, who is from the yam growing city of Techiman, congratulated Universal for a job well done and offered continued support in their efforts to promote Ghanaian products. He remarked; "We all look forward to enjoying some of the best Ghana has to offer and we expect the consistent high quality of fresh yam imported via air freight will undoubtedly lead to the opening of new markets beyond what has traditionally been limited to the African consumers." He encouraged Mr. Bawuah to press on with his efforts.
Mr. Bawuah responded, "We, along with all our regional partners, intend to grow this market beyond anything seen in the past and making Ghana yam the number one yam in North America!"