Victory Pose At 9/11 Commemoration: Trump's Gesture Causes Outrage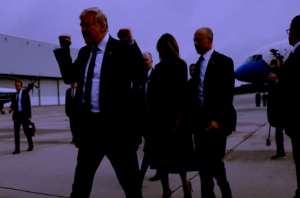 US President Donald Trump caused irritation at a memorial service for victims of September 11th with strange body language. His gestures are more reminiscent of winning poses.
Victory pose at 9/11 commemoration: Trump's gesture caused outrage. Trouble again for US President Donald Trump. At a memorial service for the victims of 9/11, Trump reaps in part ridicule instead of recognition. The reason is his rather strange body language. During his visit to the memorial of the victims of United Airlines Flight 93 in Pennsylvania Trump outraged with his gestures.
On the way to the runway, he clenches his fists to the sky. A gesture of victory...critics consider it totally inappropriate. Thumbs up, instead of gestures of prudence or grief.
In his speech, Trump then shows himself concerned and patriotic as usual: "America will never forget what your loved ones have done for all of us, America's future is not written by our enemies. America's future is written by our heroes." He calls the passengers and crew members of United Airlines heroes. On September 11, 2001, they had crashed the terrorist-hijacked plane, preventing another attack on the US.
Francis Tawiah (Duisburg - Germany)