Tain District Assembly Embarks On Public Sensitization On The Double Track System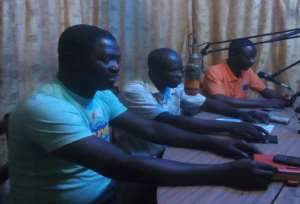 Tain District Assembly has embarked on public sensitization and education to engage and educate the citizenry on the double track system to let them understand the new system as it starts from the 2018/2019 academic year.
The double- track systems which is similar to semester systems in the universities, splits the entire student body and staff into two tracks so that whiles one track is in school, the other track is on vacation.
Under this system, a school would have its' staff and students in school at the same time and they would go on holiday at the same in an academic year as compared to the previous single track system.
It was also stated that, not all schools will be enrolled for the double track with Nkoranman Senior High School the only school in the district running the system. Under the system, students with gold track are those currently reporting whiles those on the gold track will report on 8th November 2018. However, admission is open for both track for the students to pick their admission forms and prospectus.
Teachers in a double track school will be grouped into three. Group one will teach the current SHS 2 and 3 students, group two will teach track one of incoming SHS 1students and group three will teach track two of incoming SHS 1 students with no teacher to be allowed to teach in both track 1 and 2.
The current SHS 2 and 3 students will be in school for 81 continues teaching days after which they will be vacation. Track one of incoming SHS 1, will be in school for 41 teaching days and will be on vacation for 40 days for those in track 2 to also be in school.
The team was comprised of the District Director of National Commission for Civic Education, Mr. Stephen Ebo Koomson, District Information Officer, Mr. Isaac Yeboah and Head of Monitoring and Supervision of the District Education Directorate, Mr. Fofie Simon.