No Major Renovation of Accra Psychiatry Hospital for 117 Years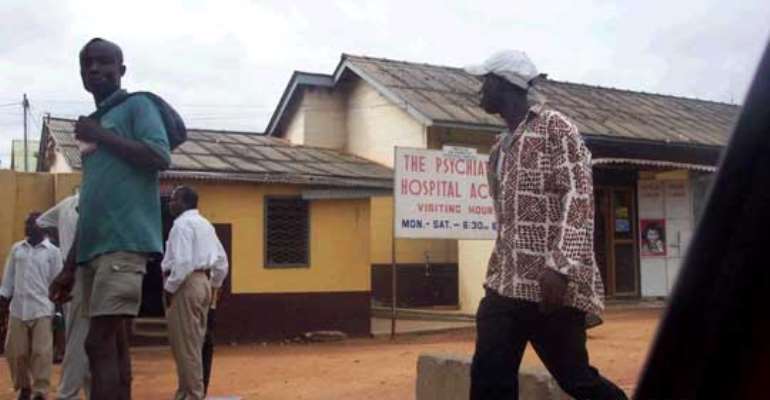 Since Accra Psychiatry Hospital was established in 1888, some 117 years ago it is yet to see any major renovation.
The Accra psychiatric hospital which is the largest in the country with a current population of 1200 patients competing for the 400 beds available is facing a serious problem of congestion due to lack of facilities and the high rate of mental illness reported at the hospital.
Currently, with the 22 wards, some of which were supposed to take about 40 patients, are now accommodating over 160 patients. Due to this problem, family members of patients admitted at the hospital are asked to bring along mats for their relative.
The deputy director of nursing services, Mr. David Maculey disclosed that the hospital lacks staff and equipment to facilitate their work. He added that the hospital has no ambulance to transfer patients to other hospital for urgent care.
He told Public Agenda in an interview in Accra that due to the shortage of staff, there is inadequate supervision. This, he said has made it possible for some of the inmates at the hospital to engage in unhealthy practices such as acquiring and taking dangerous drugs.
"We sometimes find patients on admission smoking and also when they're searched some have been discovered to have 'wee' in their possession." he said. Mr. Maculey noted that ignorance of mental illness and its causes has resulted in stigmatization and fear
He expressed displeasure about the fact the neurological disturbances, such as epilepsy and depressive illness are not commonly regarded as mental disorder. Adding,"they are viewed as retribution for past bad deeds and effects of witchcraft".
He explained that the best treatment for mental illness is education and community work adding that the only way to minimize the incidence of mental health and for society to accept the mentally ill is by intensive health education in all aspects of life.
"Due to the massive education going on, Ghanaians attitude to mental illness is fast changing and we hope that it remains that way, we've realised that fieldwork is helping the public a lot." He commended.
He mentioned lack of funding, lack of drugs, lack of family care and support, poor sanitation, overcrowding, lack of certified training, poor nutrition, inadequate trained staffs are among the problems they encounter.
According to him, the risk allowance that used to be paid them during the time of Acheampong has been cancelled with no explanation.
He appealed to the minister to reintroduce the risk allowance into the system. He gave an example that psychiatric workers all over the world are paid higher than those in the general hospitals, adding that this is has been the practice until it was also cancelled with no given explanation.
He disclosed that eventhough the current director of the hospital; Dr. Akawsi Osei has asked for a list of all staff abused by inmates at the hospital to provide some form of assistance for them, he said "it is woefully inadequate".