Ekumfi DCE Denies Involvement In MP's Attack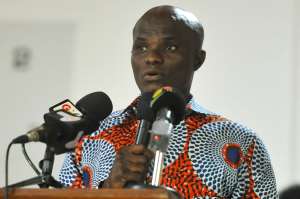 The District Chief Executive of Ekumfi, Mr Bernard Bright Grant has denied allegations that some youths of Ekumfi Eyisam who attacked the Member of Parliament for the area over the weekend were his boys.
In statement signed and issued by the DCE, he explained that the allegations made against him by were borne out of malice and hatred.
Below is the full statement issued by the DCE.
Press statement issued by Honourable Bernard Bright Grant, District Chief Executive of Ekumfi.
Topic: RE: PRESS CONFERENCE ORGANIZED BY MUSTAPHA AHMED ANDERSON
12th September 2018.
My attention has been drawn to series of unsubstantiated allegations that have been levelled against me by Mr Mustapha Ahmed Anderson, the Ekumfi Constituency Youth Organiser of the NPP at a press conference held on Monday.
At the press conference, Mr Ahmed accused me of being the brain behind a group of irate youth of Ekumfi Eyisam who needlessly attacked our Member of Parliament, Hon. Kingsley Ato Cudjoe during a festival at Eyisam on Saturday.
I want to state categorically that he told distilled lies to the public and that his claims are completely false, figment of his own imaginations, borne out of malice and must therefore be ignored.
I must say that I am a law abiding individual and have great respect for rule of law and I cannot turn to instigate the youths of Ekumfi Eyisam to attack our hardworking and god-fearing Member of Parliament, Hon. Francis Kingsley Ato Codjoe, with whom I have been working together for the party since 1990.
I must also put on record that the presser, Mr Anderson, has over the years, been levelling all kinds of allegations against me since I became the DCE so his current machinations and peddling of lies about me in an attempt to destroy my reputation, do not come to me as well as others who truly know him and what he is up to, as a surprise at all.
I also wish to categorically put on record that the same Mr Anderson has also attempted to fake so many audio conversations and implicated me in them against the Member of Parliament but he miserably failed in all the attempts hence his resolve to openly link me to the barbaric act that occurred over the weekend.
To set the records straight and situate the issue in its rightful context, about four (4) disgruntled NDC youths who claimed to be "galamsayers" started to display their anger over the ban of all forms of "galamsay" activities in the area and as they continued, their tempo increased so I ordered the Police and Community Police Assistants who were present to calm them and drive them away.
The situation was brought under control but they intermittently chanted songs which meant that they were not enthused about the fact that they could no longer carry out their illegal "galamsay" operations as they used to do in the past before the ban on illegal mining was enforced.
I and my MP took the opportunity to explain the benefits of the good directives on the "galamsay" to them and assured them of the numerous interventions which the government and the MP had put in place to alleviate their plights.
When both of us had finished delivering our speeches, we moved our cars together from one place, where we had parked earlier.
On our way out of the venue for the function, the MP signalled me to take the lead and he followed suit as this has always been the practice during our usual field works but after some few minutes, the irate NDC "galamsayers" clubbed the rear of my car and when I looked through the driving mirror, I realised that the MP's car had stopped and some of the youths had besieged and obstructed him, subjecting his car to the same fate I suffered.
I quickly ran to the place pushing everybody around and managed with the help of security officers, Town Development Committee members, citizens and the NPP branch officers and sympathizers to calm the situation.
It, is therefore, sad that Mustapha Ahmed Anderson who was not at the function claimed that I parked my car at a place different from where the MP had parked his car.
I wish to state clearly that Mr Anderson's claim that the "galamsayers" were my boys is another falsehood and I wish to state categorically that as the District Chief Executive, I do not have any "galamsay boys" therefore Mr Anderson's desire to link me to the said "galamsayers" is maliciously designed to mutilate the good relationship that exists between the MP and I.
Mustapha Ahmed Anderson also asserted that there had been impasse between myself and the Honourable Member of Parliament with regard to political power that he claimed I wanted.
I must emphasise that I have nothing against my Member of Parliament who has worked so hard in trenches with me way back in the 1990's for the success of our New Patriotic Party (NPP) in Ghana, and in Ekumfi, in particular.
I have been in the centre stage of the activities of the NPP as a Constituency Chairman for two (2) terms. By dint of my hard work and cooperation with the MP, we were able to chalk victory for the first time since 1992 in 2016. I must confess that the rapport that exists between my very self and the MP has been commended by many party functionaries including our Regional Executives.
Our gel is so strong that Honourable Ato Codjoe went unopposed both in 2010 and 2014 Parliamentary Primaries.
I am the DCE and by our constitution, I should have resigned in the year 2017 if I had any interest in the seat as far as the coming 2019 Parliamentary Primaries are concerned.
I do not have any intention to contest the seat since any move in that direction could destabilize the fortunes of the party in the Ekumfi Constituency.
My joy is that Hon. Francis Kingsley Ato Codjoe knows the genuineness of my heart and cannot in any way confirm these lies being levelled against me by Mustapha Anderson.
As I stated earlier, he has tried several times to run me down because of his distilled hatred for me.
I therefore humbly entreat the media, the BNI and NPP as a party to investigate the issue to ascertain if there is an iota of truth in his allegations.
I wish to state unequivocally that what happened at Eyisam was shameful, unlawful and detestable by all standards and must be condemned by all well-meaning Ghanaians without any equivocation.
It is interesting to note that during interviews granted by our Member of Parliament on this same topic to several media houses after the incident, he itemized the causes and none of them tallied with what Mustapha Anderson who was not at all the function has put across and wants all to believe.
His allegations are therefore baseless, malicious, meant to create disaffection for me and must therefore be treated with contempt.
I thank you all and God bless you for coming.
Signed
Hon. Bernard Bright Grant (DCE for Ekumfi)