WordDigest: Three Things Prayer Does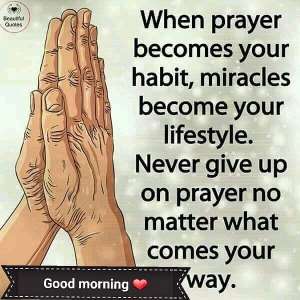 "And the Lord said, Simon, Simon, behold, Satan hath desired to have you, that he may sift you as wheat: But I have prayed for thee, that thy faith fail not: and when thou art converted, strengthen thy brethren."
[Luke 22:31-32]
KJV
Again Satan had wanted to separate Peter from the other disciples because Peter for a moment was weak in faith.
No wonder Jesus predicted his (Peter's) denial.
However, Jesus prayed to save him from the enemy's torture.
From this exposition, prayer shouldn't been taken lightly.
Prayer has been the key always for our master Lord Jesus Christ.
He started with prayer and ended with prayer.
Prayer does three things;
1. It connects us to God in three persons(Father, Son, Holy Spirit)
2. It strengths one's believe in the Lord.
3. And it can make or unmake things.
Let's intercede for others too.
For our faith not to fade away, prayer must be a daily activity.
Today, pray whether rain or shine.
You are highly favored in the sight of God.
Prayer
Lord Jesus empower us to shine for your glory, Amen.
✍Rev. Ebenezer Zor
Whatsapp me on
+233246646694 for daily message or
Follow me on
https://m.facebook.com/TheWordDigest to like, comment or share the page.
#WordDigest