Obuasi: Reaction Report On Free SHS Double-Track System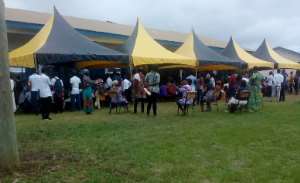 Following the Government's introduction of the Double-Track System in the Second cycle educational institution as a measure of dealing with inadequate facilities associated with the Free Senior High School program which was introduced in September 2017, the Obuasi office of the Information Services Department has interacted with stakeholders in the secondary education within the Obuasi Municipality for their take on the policy.
OBUASI SENIOR HIGH/TECHNICAL SCHOOL
At the Obuasi Senior High/Technical School which stands as the oldest and only Senior High School in the Municipality, the newly appointed Headmaster of the school, Mr Kwaku Sarpong remarked that prior to initial challenges that recorded as a results of inadequate infrastructural facilities which slowed teaching and learning process in the government's productive Free Senior High School initiative, the double track system would be the best tool to ease pressure on the available facilities and solve the crowded situation in class rooms as well as in the dormitories.
Mr. Sarpong told our team of reporters that the system has paved way for more students to be enrolled in the school as compared to the previous years. He said a number of 2,069 students are expected to report on both green and gold tracks this year as compared to last year's 1,299 single track.
Although registration is ongoing for both green and gold tracks, students of the green track are expected to report on Tuesday 11th September 2018 whereas the golden track students are dated to report on 8th November 2018 while the green track students would be on vacation by then.
Briefing our team on some of the challenges associated with the system, the Head of Academics Mr. John Bosco said, some parents who are not residents of Obuasi but have their wards placed as day students expressed some misgivings of which he personally took time to advise them to exercise patience while he consult the appropriate offices to put measures in place for their wards to be admitted to the boarding house.
Another major challenge that the Head master raised was that students who had done self-placement due to no placement for them in any of the various high schools. He said the management is doing all within their capacity to consider such students but that can be possible after all students who were originally posted are through with their registration process. He said, out of the 2069 students posted only 600 are through with the registration with many others still on the process.
In conclusion on the, both the Head master and the Head of Academics applauded the government for such a remarkable initiative which would be profitable for teachers and students as well as parents who complained of paying huge amount of fees on hostels due to the initial congestion in the school.