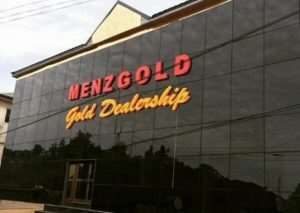 Economist, Professor Godfred Bokpin has ruled out any significant impact of the suspension of operations of Menzgold on the financial sector.
He explains that the development is as a result of investors' risk which regulators cannot be entirely faulted for it.
The SEC has ordered the immediate suspension of gold deposit taking business of Menzgold.
A directive to Menzgold by the Securities and Exchange Commission said the decision is as a result of the fact that the company's gold deposit taking business is illegal.
According to the SEC, Menzgold is engaged in the purchase or deposits of gold collectibles from the public and issues contracts with guaranteed returns with clients.
By this, clients whose investments have matured will not have access to their monies until a new order from the SEC.
Yet, Professor Godfred Bokpin tells Citi Business News the affected customers chose the risk and should bear the consequence.
"It is part of the risk and therefore when something like this happens, of course it will affect them and largely also because we picked some signal that already, some people were making withdrawal requests that they couldn't get. I want to believe that by now, Menzgold would have had some kind of arrangements in place in how it deals with the expectations of its depositors," he explained.
Citi Business News understands that the regulator's action also follows subsequent visits by officials where detailed information submitted by the company revealed that the said activities were a threat to unsuspecting and uninformed investors.
The seeming distraction in operation is traced to about two years ago where Menzgold started selling and purchasing gold and guaranteed the public a return of 4 to 10 percent monthly translating into 48 or 120 percent annually.
But on whether the inability of customers to access their funds will distort the already troubled financial sector, Professor Bokpin stressed his position as this,
"No, the spillover effect will be mute because it is largely an isolated case. The reason the effect may not be that pronounced in terms of its overall impact on the market is because reasonably, people are aware of the challenges of Menzgold; reasonably the market is aware of what Menzgold should have done that they didn't do; reasonably the market could have anticipated the end of Menzgold," he stated.