KNUST Student Attempts Committing Suicide?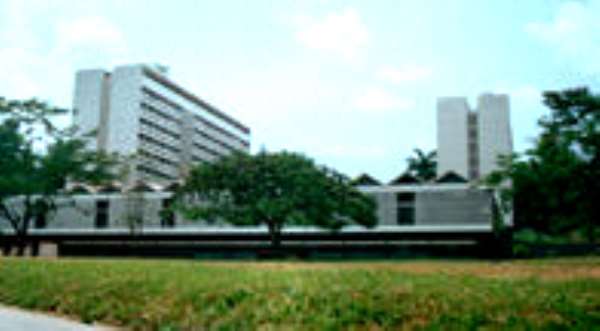 A land economy-three student of the Kwame Nkrumah University of Science and Technology, Atta Agyei suffered severe fracture in both legs when he tripped and fell from the sixth floor of Block "A' of the Unity Hall of residence on campus. He was said to be trying to scale a wall separating two different rooms last Saturday dawn. Sources who witnessed the unfortunate scene alleged that Atta Agyei was trying to escape from being lynched after unlawfully entering a room on the sixth floor probably to steal.
The source disclosed that the occupant of one of the rooms who spotted Atta Agyei raised an alarm and as he tried to flee he tripped and fe! ll from the floor. He landed on both feet according to source and suffered multiple fractures in his hind limbs. He was rushed to the KNUST hospital and later referred to the Komfo Anokye Teaching Hospital were he was admitted. In an interview with the Dean of students of KNUST, Professor Emmanuel Frimpong, he said his visit to the KATH hospital yesterday, revealed that the boy is responding to treatment. He said the university has instituted a probe into the circumstances leading to the unfortunate incident and will wait for the student to be fit enough to talk to give his side of the story. Prof. Frimpong however intimated that, the information being given by individual students are contradictory.
The incident is the third since the inception of the hall with two of the incid! ents being suicidal. In the begining of this year, a student affectionately called 'Papa Swala', also jumped from the Blocb 'B' of the Unity Hall dying as a result.