Tribute To Kofi Annan By Young African Leader: We Can't Fail The Next Generation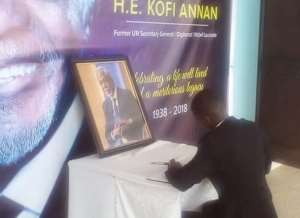 Your enormous contribution in making the world a better place is worthy of emulation and the current generation will not let down the next generation.... Seth Konadu Awuah
As I walked through the pavements and enclaves of the Kofi Annan Peace Keeping Training Center admiring the flags of different countries onwards to the condolence desk to commiserate with the family and all lovers of the World Statesman, Nobel Laureate and former UN Secretary General, I felt heavy and deep in my spirit, the world has lost a great Father and would really miss him.
WE CANT FAIL THE NEXT FAIL THE NEXT GENERATION was the silence voice I kept hearing within my heart ringing like the church bells. As a young African leader and Commonwealth youth Leader , I came to a point of deep realization, reconciliation, and conception of your popular words to the young ones across the world: "You are not too young to lead and Do not doubt your capacity to triumph where others have not". It dawn on me like what another illustrious son of Africa Nelson Madiba Mandela also said:It falls on a Generation to be Great, Let your Greatness Blossom. Yes indeed the current generation must not let down the next generations.
Yes the mantle to continue your industrious works now lies on our shoulders to carry the cross of humanity in making the world a better place. We will really miss you even though you are no more with us but your legacies stay with us here now and for posterity . We have a big role to play as privileged as a generation to witness your illustrious works for touching lives and shaping destines of the World to share with future generations the great works of a mighty man. You have opened a new chapter of our lives as youth across Ghana, Africa and the world to continue your good works as eminence of work peace.
We will miss you as a grandfather whom we call on for wisdom as young leaders in tackling grave challenges facing the world now in alleviating hunger, poverty, ensuring peace and security of nations and all other sustainable development goals. When we watch and listen to your words to Obama young leaders during the Nelson Mandela centenary celebration in Johannesburg South Africa in 2018, it behooves on us not to fail the next generation. We will keep pushing hard in changing our own world wherever we find ourselves as young leaders across the world.
Together with youth in Ghana, across Africa and the world, we hope to bring into fusion a project in celebration of your legacies and a life well lived called: KOFI ANNAN UNITED NATIONS LIBRARY AND YOUTH DEVELOPMENT CENTER. This project we hope for will be carried out in collaboration with the Kofi Annan Foundation, Government of Ghana , and other foreign partners for funding to celebrate your good works.
The Kofi Annan United Nations Library and Development Centre we hope for will be a platform for learning, research and grooming of youth in Ghana, Africa and the world through simulation of the United Nations General Assembly, Security Councils, UN Agencies and commissions. This we hope to prepare the next generation of world leaders.
This edifice we hope for will comprise of training centre for training youth in the works of the United Nations, Conference Hall for General Assembly Simulations and library for the Archival works of Kofi Annan for research and other purposes for emerging young leaders.
It may seem impossible now until we work together as youth to make this happen.
We celebrate you, We honor you, We Appreciate you.
AYEKOO!! AYEKOO!!! AYEKOO!!
Rest in Perfect Peace Sir.
Seth Konadu Awuah
African Youth and Governance Conference Alumni 2017&2018
Commonwealth Youth Leader.
Accra, Ghana
[email protected]
+233(0)265819860,+233(0)542836136