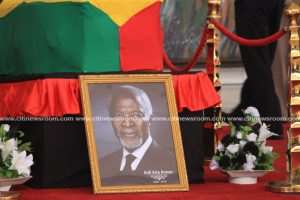 While a lot of talk since the sudden demise of former United Nations Secretary-General, Kofi Annan, has revolved around his personal and professional successes, the people who knew him best remember a more lighthearted side of the diplomat.
Kofi Annan, who passed away on August 18 at the age of 80, is lying in state at the Accra International Conference Centre ahead of his burial.
Kwame Pianim, a close friend of Kofi Annan for years and whose family has maintained close relations with Kofi's has spoken of a 'fun' side the deceased statesman.
In an interview with the host of the Citi Breakfast Show, Bernard Avle, Kwame Pianim reminisced that while Kofi Annan was known better for his quiet and humble demeanour, he had an infectious sense of humour which endeared him to anyone he interacted with.
"Most people who are arrogant just lack confidence. Kofi was absolutely confident and that made him humble. But above all [Kofi] was fun to be with. You can't be with Kofi for an hour without spending 90 percent of the time in stitches, laughing. He was great to be with, a fun-loving person."
According to Kwame Pianim, Kofi Annan's best quality was his ability to delegate tasks to the right people and ensure that the work was done, while still allowing them space to operate.
"His greatest asset is that he knew how to delegate but not just delegate and abandon. He didn't micro-manage but he micro-monitored to make sure that what he said was being done."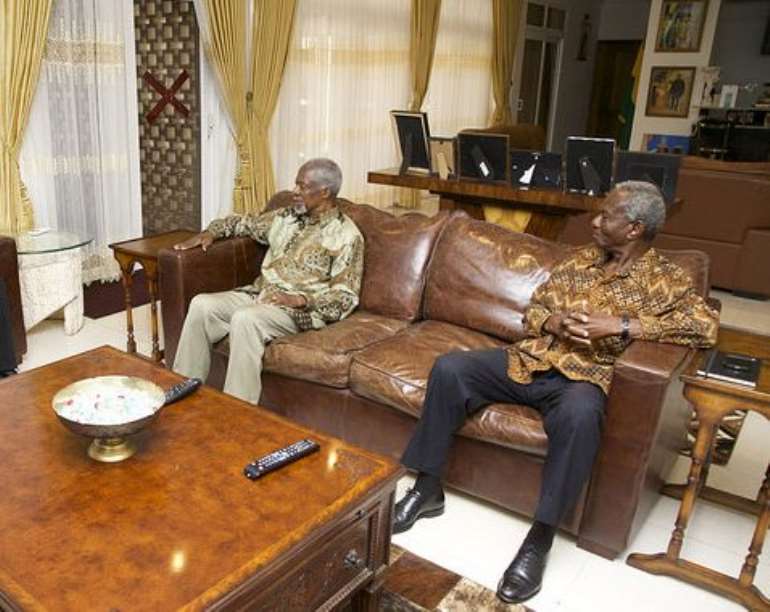 Kofi Annan left) and Kwame Pianim
'Peacemaker extraordinaire'
Kofi Annan was largely influential in ensuring peaceful elections throughout Ghana's fourth Republic, Kwame Pianim also revealed.
According to him, Kofi Annan would call political candidates, constantly emphasising the need for peace in the polls and even serving as an unofficial mediator in disputes between the key political figures behind the scenes
"Most Ghanaians are not aware but every elections in the fourth Republic from President Rawlings down to Nana Akufo-Addo's election Kofi was always calling the main characters, the candidates, telling them we need peace. He was always talking to them. He would call me at night and aske me to get him the telephone numbers of certain people or ask me to ask them to call him.
"The fact that Ghana has been free of election violence is largely due to this very calm person who always stood above political partisanship, above tribe or ethinicity and was always there to make sure that we were able to diffuse things"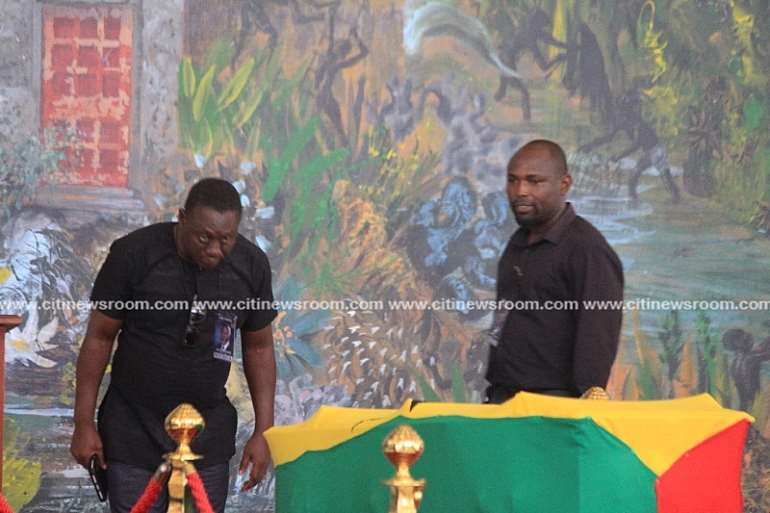 'Irreplaceable'
Weeks prior to Kofi Annan's death, Ghana lost another statesman in J.H Mensah.
Kwame Pianim described the loss of both Kofi Annan and JH Mensah as devastating, adding that the two personalities, who worked primarily to ensure the well-being of the poor and marginalised in the soceity, as irreplaceable.
"I worked with a lot of international economists but J.H was completely different. He had great intellect. [Kofi and JH] were friends through the UN. The great thing about both of them is their concern for the 'small man.' Within the few years he spent as Finance Minister, JH helped create SSNIT which was a safety net for workers. He helped launch the rural electrification to take electricity to the villages. It's sad because we just buried JH Mensah and on Saturday morning, my wife told me that Kofi's wife had called to tell her that he had passed away. That week was really devastating. Both of them are irreplaceable."
On Wednesday, September 12, dignitaries are expected to file past and pay their last respects to Kofi Annan before he's buried on Thursday at the new military cemetery.