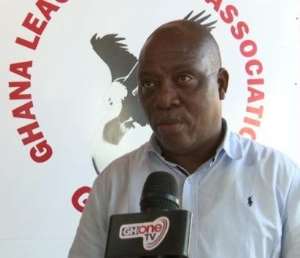 Mr Cudjoe Fianoo, Chairman of the Ghana League Clubs Association (GHALCA), has said, 53 clubs have agreed to take part of the "The StarTimes Cup".
According to Mr Fianoo, 15 Premier League sides and 38 Division One League clubs, would compete in the invitational tournament, which would commence on September 23, 2018.
In an interview with the GNA Sports, after a GHALCA meeting on Tuesday, he said the tournament was to keep players in shape, following the indefinite break in football activities.
He said, "we know about the current situation of Ghana, so we thought it wise to organise a competition to keep players in shape and StarTimes came on board to assist with this course".
He added, "so the teams which include 38 DOL clubs and 15 Premier League clubs, have all agreed to participate in the tournament. We also have to go out to seek for more sponsors".
"We also in consultation with the Ministry of Youth and Sports, to support us in the organisation of the come competition, because this would be in the interest of Ghana football," he said.
GHALCA is expected to roll out the modalities of the competition, which is expected to end on December 23, 2018.