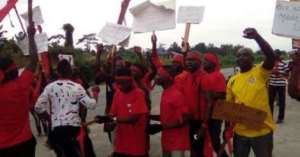 Uber Drivers have withdrawn their services on the Uber Applications for the next two weeks.
This is in protest against what they say is unfair treatment by Uber Ghana.
According to the drivers their business which seemed profitable from the start has now become unprofitable due to various regulations by the company which they say are unfavourable to their operations.
The drivers said some of the unfavourable actions include the 25 percent commission, reduced working hours, anonymous passengers and discount promotions for passengers as some of the issues they are unhappy about.
The drivers mostly from Accra, Tema, and Kumasi, yesterday demonstrated to register their displeasure.
They converged on the Trade Fair Center at Labadi in Accra where they submitted a petition to an official of the company.
However, the official who failed to disclose his position at Uber Ghana refused to address the crowd.
After several failed attempts to get him to immediately speak to the crowd, the drivers withdrew their services from the Uber platform for two weeks.
They threatened to go off the Uber platform and join other online transport services.
Chairman of the Online Private Drivers Association, Ishmael Ocloo told Accra-based Citi FM that the protests will continue until their grievances are addressed.
'We have already served them a petition but they didn't answer. We want them to even engage us but they don't want to do that," he lamented.
Meanwhile, Uber West Africa has said that the grievances of the angry drivers are not a reflection of the over 1000 drivers currently registered on the platform. General Manager, Lola Kassim stated that the Company's current regulations will not be reviewed any time soon.