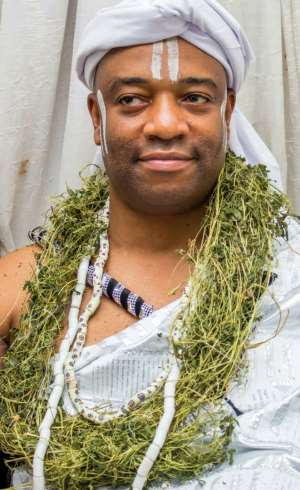 The Ga Mantse Nii Tackie Teiko Tsuru II has eulogized two indigenes of the Ga state who passed away recently.
According to the tribute released in Accra, the two Ga-Dangbe stalwarts are namely Justice V.C.R.A.C. Crabbe and Professor Atukwei Okai are like meteorites bidding farewell to the night skies, they have fallen into eternity.
We have neither conceived this in our intellection nor dreamt of seeing our heroes walk into eternity in such succession!'
We have been dealt a deadly blow in the higher echelons of the Ga-Dangme family and we are all dazed by the falling of our Heroes.
''Kwɛ mɛɛba shwane ewo duŋ kabitii nɛkɛ, ni Nyɔŋmɔbitɛteii hɛlɛɔɔ tseii kɛ tɛi yɛ ŋwɛi nɛkɛ?
Ao' namɔ aaabɛɛ atatu nɛɛ kɛshi ŋwɛi, ni hulu aashɛje wɔmiŋ?''
But we take consolation in the fact that, they heeded to their calling and have paid their dues to society. It is the reason why the world is singing their praises even in death the tribute said
With a sorrowful heart I, King Tackie Teiko Tsuru II, together with the Chiefs of the Ga State, Ga Manye and Manyemei, Wolomei, Ga Asafo, Worwoi-Woryei, the Ga Paramount Stool Djaase Council and Ga Dangme State bid them farewell.
With teardrops, I wish their families a peaceful and solemn time.
To Justice V.C.R.A.C. Crabbe, a Father, your wisdom shared with all is written in gold and
To the Poet Atukwei Okine, a leader, we have learnt and are wiser from your rich reservoir of write-ups.
The Ga-Dangme academia will surely miss you the tribute said.
With a renewed dedication to fill up the holes, You - our finest Ga -Dangme warriors have left, I ask of our people, my rank & file......
Who amidst us is ready and willing to take up this higher mantle of our fallen Warriors to bring smiles to our people?
Who amidst us will hold the torch bearers light to lead our people on until Ga Dangme is clothed with the finest fabric of our choice that befits all our fallen Heroes?
Come join me in the fore front position and together, we will change the course of our Ga Dangme, our Heritage.
Fare thee well my Fathers, fare thee well my gallant heroes and continue to guide us from your new world....as I hold high the torch-light leading our people on to Victory.!!
Tswa ni omanye abla wor! Hiao !!