National Teachers Dialogue On Privatisation Of Education In Ghana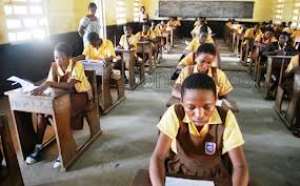 GNAT, NAGRAT, TEWU and CSOs have held a meeting to deliberate on ways to halt the privatization of education in Africa and promote free public education.
The President of GNAT, Miss Philippa Larsen, said in a speech that GNAT, NAGRAT, TEWU, GNECC have critically studied the fast rate at which private education is growing at the basic level particularly with regard to the phenomenon of low-fee private schools for the poor and have come to the conclusion that this contravenes Article 29 section 1(a & b) of the convention of the right of the child.
"Mindful of the subtle and covert attempts by the Global Edu-Businesses to change the post-2015 debate on education from free public education to affordable private education, it is important to establish a well-defined legal framework for the establishment and regulation, especially in the basic schools.
She said the coalition of teacher unions are convinced that education is a public good and must be of the highest quality, be free and compulsory for every child of school going age in order to meet the SGD by 2030.
She said that they believe their input will bridge the existing gaps and strengthen the ongoing draft-bill.
Mr Gavrielatos said that Education International makes no apologies for commitment to ensuring every child has access to education.
He said three factors are necessary in the provision of quality education and these are qualified teachers, engaging curricula and safe environment.
The International community, he added, has adopted Sustainable Development Goals and one of them, SDG Number Four, states clearly "to ensure inclusive and equitable quality education and promote lifelong learning opportunities for all' and has seven targets and three means of implementation."
"We are therefore very disturbed to see trends that undermine that goal and support models of education that are not free". He said.
He said that EI stands firm with the implementation and achievement of these goals, demanding that governments and international agencies fulfill their obligations and commitments.
He further stated that ,he does not accept the claim by some governments that there is a financing gap adding that there must be a priority in investing in education for children.
Mr Gavrielatos expressed fear about a new fund known as the Education Outcome Fund for Africa and Middle East saying "We are alarmed to learn that the focus of this fund will be on non-state actors".
"Governments and the international community must demonstrate their commitment to inclusive and equitable quality free education for all - SDG4."
A review of a research was also presented by Mr Johnson Boh, Research Officer - Ghana National Association of Teachers on Omega Schools. A case study was done in Kasoa on these private schools which he said are causing a sensation in Ghana.
These schools he said ,were set up by an entrepreneur who had a concept about making very little or no profits out of the poor and had a vision where the state would eventually wash its hands off providing education.
Their education model is based on lower fees such as daily tuition collection. The research was done to test the quality and affordability of education in the selected area.
He said it came to light that the quality of education in these Omega schools was compromised due to the use of unprofessional or untrained teachers who were paid meager sums leading to repatriation of the teachers.
The students, he said, who were unable to pay daily fees eventually dropped out of school.
The research was presented to the Parliamentary Select Committee on education to be forwarded to the Minister of Education for a single legislative instrument to govern the operations of both public and private schools in Ghana.
The research was not only for the Omega schools but for private schools as well.
They recommended that the Ministry of Education exercise its supervisory and inspectorate arm and called for the clarification of the roles and responsibilities of the education services.
They demanded that district assemblies have budget allocations for school infrastructures in their communities and also clear the air regarding the regulation of private schools within the districts .
They also recommended that, the Ghana Education Service monitors standards of education in their communities. A copy was presented to the Ministry of Education.
The meeting was organised as part of a three day workshop held at the GNAT Hall in Accra on Education International Global Response to privatization and commercialization of education in Ghana.