Kpandai township floods after heavy downpour of rains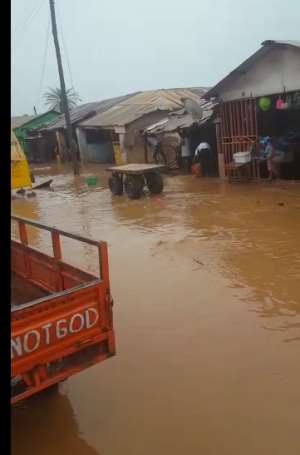 Some parts of Kpandai, the district capital got flooded following a heavy downpour of rains on Monday's afternoon 10th September has left many areas and homes in the city submerged by floods.
The rains, which started at around 12:35 pm and lasted for about one and a half hours, left many people homeless.
It's a real struggle particularly in this part of the area when the rains come pouring.
The rain and its resulting floods consequently caused some Fuel stations and some shops, including some houses along the highway, got flooded through to their rooms.
Floods are major disasters affecting many places annually especially in most floodplain areas. Floods do not only damage properties and endanger the lives of human and animals but also produce other secondary effects like an outbreak of diseases such as cholera and malaria as well.
However, flooding is commonly caused by heavy downpours of rains on flat ground, reservoir failure, volcano, melting of snow and or glaciers e.t.c.
Flood risk is not just based on history, but on a number of factors as well: rainfall, river flow, and tidal-surge data, topography, flood control measures, and changes due to the construction of building and construction of highways on floodplain areas.
According to one of the residents within the locality revealed that it has been happening for years now but not as compared to this year's, he also said the road was awarded to a company named as First Sky for two years now and after the construction of the gutters within the township has resulted to this mess.
"We are suffering in Kpandai, we cannot transact business whenever it rains heavily, this township road was awarded to First Sky Company to be worked on for two years now and after the construction of the gutters along the road has always been a headache to us, whenever it rains heavily the gutters over-floods causing more havoc to us leaving along the highway" he said.
The seriousness of the flooding was attributed to a combination of two events: very heavy local rainfall and the unprofessional works done by First Sky Company Limited.
No casualties have been recorded as NADMO officials assured that everything was under control.
Watch The Full Video;