Beverage Association Fights GRA Over 'Draconian Bullying'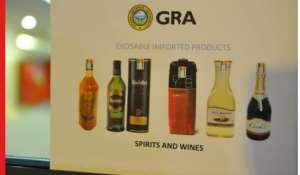 Food and Beverage Association has warned against any form of bullying by the enforcement task force of the Ghana Revenue Authority (GRA).
GRA's enforcement task force is embarking on unannounced inspection visits to various shops to enforce compliance with the tax stamp policy.
"We're not going to have any draconian bullying. We don't have this so we are closing your facility - obviously, we are not going to entertain that. We expect that we all have a jaw-jaw so we reach an amicable solution regarding compliance," the General Secretary of the Association, Samuel Aggrey, told JoyBusiness in an exclusive interview.
So far, importers, manufacturers, wholesalers, retailers and the general public have been entreated to ensure compliance to avoid having their products seized and shops closed.
"What we have to do is allow the manufacturers time so that they can comply because, during installation and the cost involved, sourcing funds take time. We should allow them by the end of the year. Most of the manufacturers themselves agree that they'll be able to comply," he stated.
Earlier, the association stated that government has not reached full agreement with it on issues surrounding the implementation of the tax stamp policy.
According to Mr Aggrey, it is not clear as to the way forward on how the stamps should be applied. He reiterated that beverage importers or manufacturers should not be forced to embark on investment that "they are not ready to do."
He said the Association has proposed 'digital stamp' as a solution to the problem. He believes investment in this is not only comparably affordable but also yields optimum results in terms of revenue generation.
"Government, on the other side, stands to gain if it deploys the digital stamps; with this one, it's only a software and a small machinery that would not even cost you more than 20,000 cedis, or even less," he said.
This is not the first time the Ghana Revenue Authority (GRA) has embarked on an enforcement exercise.
Officials of the Ghana Revenue Authority (GRA) earlier in April 2018 stormed some retail outlets in Accra to remove all products that do not have the tax stamp from the shelves.
Background
The Excise Tax Stamp Act, 2013 (ACT 873) was passed by Parliament in December 2013 with the aim of helping the Ghana Revenue Authority (GRA) enforce the affixing of Excise Tax Stamp on specific excisable goods before they are delivered ex-factory, cleared from any port or presented for sale at any commercial level in Ghana.
The ACT subsequently received presidential assent in January 2014.
The Excise Tax Stamp Act is definitely not an introduction of a new tax. It rather requires that Excise Tax Stamps with traceable and security-enhanced features on specified excisable commodities in order to serve as preliminary evidence of the payment of the required duties and taxes and to provide an audit trail for tracing importers and manufacturers of counterfeited goods.
Excisable Products expected to be affixed with the stamps include Cigarette and other Tobacco products, alcoholic beverages, non-alcoholic and carbonated beverages, bottled water, textiles and other goods determined by the Minister of Finance.