Debt: A Necessary Evil In Bridging Infrastructural Lapses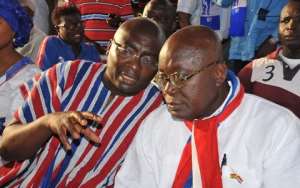 Infrastructure remains one of the most significant challenges facing third world and developing countries. The case is no different for Ghana.
Available statistics from the Ministry for Works and Housing indicate that Ghana's housing deficit stands at 1.7 million. Add New
Additionally, Ghana's road network grows at an average rate of 8% per annum, whilst most of the existing ones are not in desirable conditions.
Coupled with these are the ever-aging bridges, drains and other elements associated with Ghana's road network.
Ghana also has a rail network of 1,300 kilometres, which is inaccessible, in spite of the disturbing traffic situation that affects productivity.
There are several communities in Ghana which still lack access to communication, despite the 3,000,000 telephone users Ghana has out of its population.
In spite of the vigorous rural electrification drive of successive governments, especially in the 4th Republican era, Ghana still has areas yet to access electricity, especially, with about 72% urban electricity access, and about 45% rural electricity access.
It is also reported that over 10 million people lack access to potable water, not to mention the destroyed water bodies as a result of unfriendly environmental activities.
The dire need of irrigation in Ghana gave room for the government's flagship 'One Village One Dam' policy.
The above are evidence to show that the need for infrastructure in Ghana's developmental agenda is inevitable.
It is worth stating also that donor partners are inevitable in our quest to bridge these infrastructural deficits.
The Chronicle Newspaper in its September 5th 2018 issue, reported that Ghana's revenue currently stands at GH¢3,123.81 million annually, whilst expenditure stands at GH¢3,882.40 million, representing a GH¢758.59 million budgetary deficit.
This obviously means that donor partners such as the International Monetary Fund (IMF), the World Bank and other donor countries cannot be done away with in our quest to develop.
It further strengthens the fact that debt is unavoidable in this regard, though it is not desirable for any individual or country.
The attitude of creating a devil out of it and using it for political expediency must stop. Debt, when incurred and used for the right purposes, is helpful and needful in our developmental agenda.
To the man who only has a hammer, everything he encounters begins to look like a nail, as Abraham Maslow said, and this reflects how Ghana's political elite treat borrowing, and for that matter, debt.
It is, however, worth pointing out that governments should not abuse borrowing by using monies for their personal interests, but rather for the intended purposes, and also build a credible economy that is credit worthy.