Col. Jackson Wonje Takes Over Operation Vanguard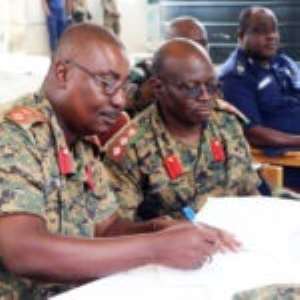 From Frederick Danso Abeam, Obuasi .
Col. Jackson Wonje of Army Headquarters in Accra has taken over as the new national commander of Operation Vanguard headquartered in Obuasi.
He announced at a short handing over ceremony at Obuasi that the government has put in place processes for anybody who wants to go into mining to follow and has warned prospective miners to "Do the right thing by regularising your operations. If you are operating legally using legal methods, nobody will come and seize your equipment".
Col. Wonje pointed out that the success of his team will be measured by seizure of less equipment, less arrest and less destruction of equipment and called for support from Metropolitan, Municipal and District assemblies (MMDCEs), Regional Ministers, opinion leaders, assembly members and other stakeholders towards the fight against illegal mining in the country.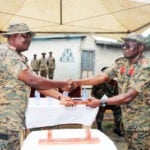 The out-going commander of Operation Vanguard, Col. Michael Amoah-Ayisi stated that if the security forces have been able to go to other troubled lands outside our territory to help bring peace in war and conflict situations, then they have no excuse whatsoever to fail in our own country.
"I am happy that we have taken the bull by the horn and we are putting our shoulders to the wheel to make sure that we succeed in protecting the environment for future generations" he said.
Col. Amoah-Ayisi noted that it is not only war situations that force people to migrate to other countries but illegal mining activities, with its attendant hunger, as a result of lack of arable land to farm and good water to drink among others can also force people to migrate.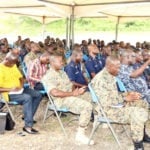 "We have a charge to keep as security forces. I don't think we are ready to see our grandfathers and grandmothers carrying bags and baggage moving to other areas to be beggars and search for greener pastures" Col. Amoah-Ayisi added.
Col. Amoah-Ayisi re-joins the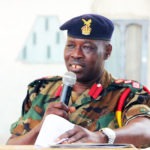 Department of Joint Operations at the Army Headquarters in Accra after a 9-month duty tour as Commander of Operation Vanguard.
He took over from Col. William Agyapong the first Joint Task force Commander in December 2017.