Ghanaian Football Fans Reacts To Black Stars 1-0 Lose To Kenya In AFCON Qualifiers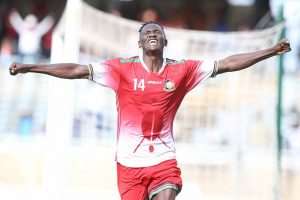 Ghanaian football fans expressed their anger and frustrations following Ghana's 1-0 loss to Kenya on Saturday in the second round of the 2019 AFCON Qualifiers on Saturday.
Nicholas Opoku scored an own goal in the 40th minute as he went clearing a cross from Eric Johanna.
The own goal scored by the Ghanaian defender turned out to be the difference between the two teams and after the match.
Below are some of the reactions

Kwesi Appiah is yet to beat a white coach in a competitive match...

Very shambolic...

— SAMUEL E. A. APPIAH (@appiahsamuelkow) September 8, 2018
10-man Kenya beats Ghana? Oh dear, oh dear. What on earth has become of the Black Stars? Years of Nyantakyi misrule are still having consequences, it seems.

— (((Jon Benjamin))) (@JonBenjamin19) September 8, 2018
No disrespect to Kenya but that was an abysmal performance by the Black Stars. Kenya 1-0 Ghana? It is football alright but it's unacceptable

— Bright Kankam Boadu (@TheOnlyBKB) September 8, 2018
You can't beat them in athletics it's understandable but not in football.

I don't believe in Kwesi Appiah 😡

— Felix Romark© (@FelixRomark) September 8, 2018
A 25% fit Asamoah Gyan would've done way better than Waris today! Kwesi Appiah must either find an adequate replacement for Gyan or keep him in the team.

— Dani Koranteng (@Dani77k) September 8, 2018
Some people thought after #Number12 Black Stars will win all the games, hello?

— George Nitro Duah (@georgenitroduah) September 8, 2018
Obviously...reappointing Kwesi Appiah was Ghana's second biggest mistake aside gaining an early independence#KENGHA

— papa kofi (@yoofibiney) September 8, 2018
My name is Kwesi Appiah, I have no idea about coaching 😂😂😂 pic.twitter.com/1tiNOUk8So

— Mr Chekora (@Chekora) September 8, 2018
Kwesi Appiah took charge of his 11th game as head coach of Ghana 🇬🇭Black Stars today vs Kenya 🇰🇪 after his re-appointment in April 2017.



Stats Breakdown:



Played: 11

Won: 4

Drawn: 4

Lost: 3

Goals scored: 19

Goals conceded: 9

Win %: 36%



Underwhelming.

— Nana Owusu (@AlfOwusu) September 8, 2018
Stillllll i say Kwesi Appiah is clueless

— Nana (@nana_quomie) September 8, 2018