Power Pooling in West Africa solution to energy security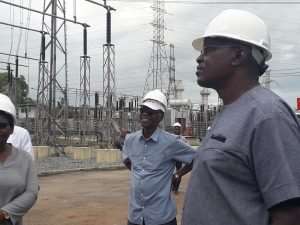 The World Bank Country Director for Ghana, Sierra Leone and Liberia, Henry Karali, has said that the way forward for energy security in West Africa is power pooling.
According to him, many countries of the world have adopted this method, leading to stable and secure energy production and supply.
Mr. Karali on a week-long tour of projects funded by the World Bank in Ghana's Western Region, also visited the Aboadze Power Enclave.
The World Bank and its partners are financing the Aboadze Power Enclave projects to the tune of $111 million, the first phase of the inter-zonal transmission hub project under the West Africa Power Pool.
The initiative aims at reducing the cost of electricity as well as improving the security of power supply to Burkina Faso from Ghana. This will in turn increase Ghana's electricity export capacity.
In June this year, electricity was supplied for the first time to Burkina Faso.
After touring the facility which has seen the installation of circa 200 kilometers of a 225-kilovolt transmission line and electricity injection source at Navrongo, Mr. Karali said power pooling in West Africa is a sure way to energy security.
"The world bank is coordinating the regional activities to get all countries to sign on to the concept. This is something that is new for West Africa, but not new to the world. Europe for example uses the consolidated clearing system for power generated from several countries into a common grid system," Mr. Karali said.
"What we hope to do at the World Bank is to have a customized version that works within West Africa. So that when a country signs up to buy power from another country or from power pool as a whole, then they have confidence that their needs will be met" he stated.
He said the challenge with countries failing to pay for power supplied by other countries needs a holistic approach to end it.
"Part of the problems has been that because of variations in supply, a country may sign up to receive 100 megawatts, but doesn't receive it. And that causes major problems, major disruptions. But once we have these agreed mechanisms, then there is confidence in the system and there are reliability and reliability of payment as well. This is because in some cases countries have exported electricity but have not received payment, so we have to look at it as a total package" he noted.