Liverpool Coach Jurgen Klopp Gives His Players The Very Best In Everything - KP Boateng Reveals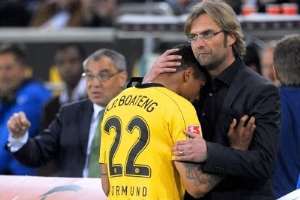 US Sassuolo attacker, Kevin Prince Boateng has lauded Liverpool manager Jurgen Klopp for his man-management style.
According to the former AC Milan star, the former Borussia Dortmund trainer always gives his players the very best in everything.
Quizzed who saved his career back in the days when everything seemed gloomy, the 31-year-old revealed to La Gazzetta dello Sport: "Klopp at Dortmund. At that moment I needed a motivator, one who spoke to me, even in a harsh way, like a father can do. And he kills you."
Boateng was loaned out from Tottenham to Jurgen Klopp's Borussia Dortmund back in 2009 and, despite failing to score in 11 appearances under the German, still has only warm feelings towards the manager.
"I could see it immediately," Boateng told the Guardian last February. "He's the best coach in the whole world.
"He knows when to push you and when to comfort you. He knows when you need a drink when you need water. He has everything. Ask the players and they'll say: 'He's the best, I'd die for him'.
"He knows exactly what every player needs and gives them time. There were players at Dortmund who played five minutes in six months but they were happy: happy to come to training, happy to work, because he made you feel important. Not necessarily as a player - maybe he doesn't need you - but as a person.
"That's why he's successful everywhere. And Liverpool's perfect; just watching his presentation you see it. 'The normal one': people there love that."