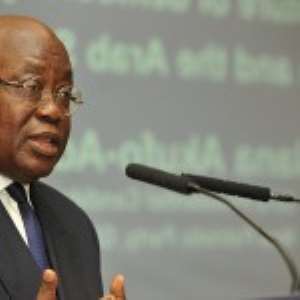 Every time I have readied myself to write over the last few months, my planned script has been upended by absolutely incredible events and situations that are unique and puzzling to most logical individuals.
We live in a country born into wealth called Ghana, yet with every step forward, we take quite a few in reverse. It would be entertaining if no lives were at stake but that's not the case. I started my recent musings when the proposed opening of the quaternary referral medical center at the University of Ghana did not occur as a result of political shenanigans, completely oblivious of the lives being lost daily as the tit for tat NDC and NPP players on the national stage followed their usual childish unproductive script of mutual blame. I hope patients are being cared for now. I am afraid to verify, lest I lose faith in humanity. I found it all very callous.
Not long after, the AMERI brouhaha took on the starring role in the national tragicomedy. The president had apparently done his due diligence and sent the document to "double-salary" parliament for approval. Oh no, not so fast! A number of number crunchers, more adept at math than I, began to expose the enormous cost that the revision of the AMERI deal would entail. The presidency went into reverse gear, claiming ineptly that the whole president of our nation had been misled. Exit Energy minister Agyarko! It was like amateur night at the Apollo Theatre.
I had hardly caught my breath on that one when a tinkering with the 110 ministerial orchestra took place. What was that about?
I approach national issues with a nationalistic attitude, so in the last election, I truly hoped Akuffo-Addo would win because I fully expected him to act more in the national interest than I had experienced with the Mahama administration. He won. There was a sigh of relief with Mahama's exit and so much political capital invested in Akuffo-Addo from many non-NPP supporters in the over-riding national interest.
I have never quite gotten over the 110 ministers but as an ever hopeful Ghanaian, I await solid evidence that it was a good idea. Nepotism is the harbinger of ineffectual and non-objective management. That was another layer of chocolate, cream or icing spread over the gargantuan 110. Qualified relatives? Yes. However, a very bad idea because it is a regression to feudal 'ahenfie' (palace-style) rule, kicking the national diversity of talent and promise in the teeth. That was my first true disappointment but hey I'm a Ghanaian and so I adopt a wait and see attitude, as I nurse my favorite cold beverage, with old time highlife or modern hip-life to soothe my inner beast. As King Solomon's court wrote for eternity in Hebrew, "Gam Zeh Yaavor"- "This too shall pass"
Oh! I almost forgot. My main man Amidu was appointed Special Prosecutor. I thought he would be all over the "double salary" by now. I am waiting for something to happen but slow down. The wheels of justice are slow but in the end, justice is done. The Attorney-General's office and the post-Anas judiciary need serious funding and if money is to be borrowed, strengthening these institutions must be a priority, even above my favorite, the sanitation ministry.
The mere mention of Anas explains modern football in Ghana. The revelations were shocking but not surprising. I did have one shock. That was when I heard that the lawyerly president had ordered the arrest of Mr. Nyantakyi, the GFA boss who starred as an excited recipient of wads of cash in the video. It was a Trumpish moment. Is that due process? Maybe, the press had it wrong.
Hey, I'm just an over-trained witch doctor. I don't understand the nuances of the law.
Just as I was recovering from all that, enter the banks.
Now, I am a voracious reader of all news Ghana and I am constantly reminded of the stiff penalties are for stealing goats or copper wire. So, these bankers just up and shared Ghc 5bn of depositors funds in one bank and in God's own bank, Ghc 600m also disappears. I then saw an earlier undated video of the Otabil guy talking about how easy banking was. That must have been before the financial rapture at Capital Bank. What can I say? The prophet did not see it coming. Forgive me for I don't know the hierarchical difference between pastors and prophets. Like it matters. The country has gone to the dogs! Canine hegemony. I expected to see these bankers arraigned but holy smokes, different laws for different folks. A democracy is only valid when everyone is equal before the law. We await validation of our democracy from the party which would have us believe they are the experts in democratic governance.
Their passports should have been seized by now and they should end up with the goat and wire thieves for they are all thieves. These bankers are worse, for they had fiduciary responsibilities.
Now, for the almighty crowning moment. We need a National Cathedral like we need a bullet in our collective Ghanaian head. As a Christian, I vote a definite no! This is a constitutional secular democracy. The government has no business building a cathedral. All the high level' government officials should take one morning each month and sit in a medical officer's consulting room or a teacher's classroom and they will learn quickly what our national priorities should be. Our unity as a nation is best protected by preserving those secular freedoms. The idea is bad, the cost is sinful and the proposed location is deadly with all the current state assets that will be lost, not to mention the traffic snarls. `I hope the government has a revelation on this one and sees the light. God will thank us if we do not build this house of hypocrisy. If in this majority Christian country if most lived as Christians, we would not lose $5bn annually to theft and corruption. Corruption is not a perception. In reality, it has destroyed the country. It is so pervasive, we don't even see it. In 10 years, we would have realized the $50bn we are supposedly going to sell our nation to China for in a 100 year bond. From "Ghana beyond Aid" to a 100 year loan? Whose crazy and dangerous idea was that anyway? Nkrumah's hard won freedom to be sold for Chinese colonial rule for the next century?
There's got to be a solution to our national problems, beyond the false binary Dukadaya NPP-NDC choice. A combination of hard work and innovative smart thinking has been absent from these two parties.
To paraphrase a good friend, those of us who are not fooled by this Dukadaya pair must "organize not agonize" Our country has been reduced to a theological-neocolonial puppet state. We should learn to RESPECT and believe in ourselves. (Thank you Aretha- RIP) and Heaven help us all!
T. P. Manus Ulzen is Professor of Psychiatry and Behavioral Medicine at the University of Alabama and Author of "Java Hill: An African Journey"– A historiography of Ghana
[email protected]
www.javahillelmina.wordpress.com
Twitter: @thaddeusulzen
www.javahillelmina.com