Urinating Milk For Africa Is Not The Right Way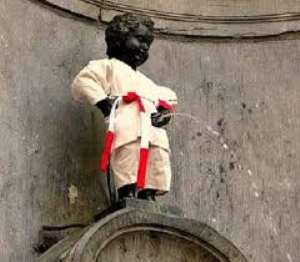 I couldn't believe after reading that on the occasion of World Milk Day, which falls on June 1st in Belgium, the Veterinarians Without Borders in the country, decides to wear Manneken Pis with a costume of an African livestock farmer, urinating milk for Africa.
What is Manneken Pis anyway? The Manneken Pis,' meaning the urine of Manneken, is a bronze statue of a small boy urinating into a fountain enclosure. The statue was designed by Hiëronymus Duquesnoy in 1619 and has been in Brussels since.
According to Veterinarians Without Borders organization in Belgium, milk is an essential source of food and income in Africa, and more than one billion people live from family farming in developing countries.
A Belgian cow produces an average of 25 to 35 liters of milk per day compared to 2 to 3 liters at best for an African cow. "During the last three months of the dry season, the calves drink all the milk, so there is nothing left for the family," the organization further stresses.
The question is if 'Veterinarians Without Borders' cares about Africa is that the only way to show that concern and care? In Africa, the elders used to say that certain kindness can put one into trouble and it seems they are right.
Whoever decided to show concern to Africa in this way is like putting salt into injury. This is not only an insult to Africa but degrading as well. I don't think anything of that sort can be discussed as a relief for any European country in the East or West, assuming in similar circumstances.
I don't understand the way some people view Africa generally. People sit and plan something without thinking about it whether it's good or not. Africa hasn't called for that so if they have decided to show that love then it should be done in an appropriate way.
If the Germans had built a statue to hail Hitler for killing Belgians during the Second World War, they will understand it better if is right to build a statue of a king who killed over ten million Africans, including women and children.
Before and after colonialism, Belgium has shown in many ways that they don't value or have respect for Africans or black people. But in life, respect goes to people who deserve it. Many North Africans feel this way too the reason Belgium is one of the countries prone to terrorism in Europe.
Related topic: THE COLOUR OF JUSTICE IN BELGIUM
It is completely outrageous and a disrespect if the NGO wishes to emphasize the importance of milk in the fight against hunger and poverty in Africa in this way. Enough is enough Belgium.
Something like that shouldn't take place in a civilized world but very common in Belgium like the standing statue of the murderer King Leopold II and they feel comfortable with it because they don't know what shame is.
Manneken Pis symbolically dressed as an African livestock farmer urinating milk between 09:00 and 14:00 for Africa, is another disrespect to Africans in Belgium's political history after Leopold II's statue. Those that organized such a thing were sick in the mind.