Leave Daniel Domelevo Alone!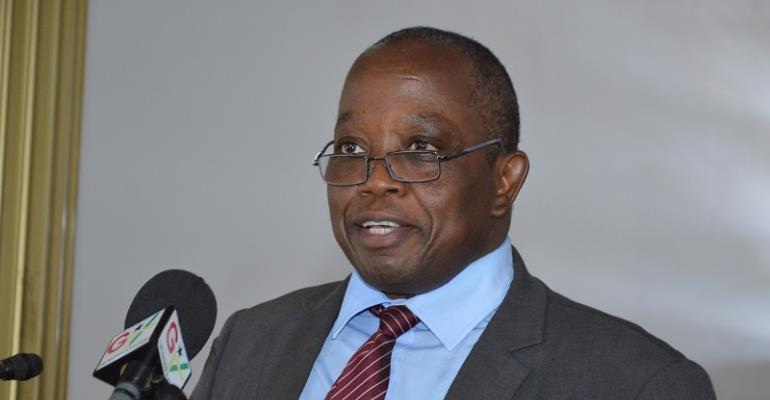 What I like about Mr. Daniel Yaw Domelevo, the eleventh-hour Mahama appointed Auditor-General, is the fact that even though he had been mischievously offered his appointment in hopes that he would deftly and deviously cover up the thievish crimes of the Mahama-led regime of the National Democratic Congress (NDC), so far, the man has proven himself beyond any reasonable shadow of doubt that he is a star-studded civil servant with a conscience. He may come off to some of his detractors from time to time as a bit too aggressive and/or exuberant, but that is the nature of the job, especially if the holder of the same is serious about leaving an emulative legacy for his successors in the near future.
Whether you like him or not, what you cannot deny, if you have an iota of decency and honesty in your veins is the fact that the man is making a heck of a lot of difference in the quality of life of the proverbial average Ghanaian, especially gauging matters from the shoddy performance of the hoodlum likes of Mrs. Betty Mould-Iddrisu, Mr. Ebo Barton Odro and, of course, the hopelessly incompetent Mrs. Marietta Brew Appiah-Oppong. And on the latter count, of course, I am thinking about the GHȻ 67 Million under-cover-of-darkness Judgment-Debt Payout case in which absolutely no judicial records can be traced to both the judge and the prosecutor who so hopelessly, apparently, bungled the case.
Indeed, were he a politician, Mr. Domelevo would easily qualify to be called a statesman-par-excellence. And so I really don't give a damn about the fact of whether the Auditor-General "blew" GHȻ 7.6 Million on the purchase of some 27 vehicles or motorbikes meant to enable his staff perform their duties more comfortably and efficiently. All that matters to me is that this no-nonsense first-rate fiscal sleuth is not being accused of having illegally and/or criminally pocketed the public dole, the way that the key operatives of the Mills-Mahama-led National Democratic Congress aided Mr. Alfred Agbesi Woyome to literally take the wantonly exploited Ghanaian taxpayer to the cleaners (See "Auditor-General Blows GHȻ 7.6 Million on Cars" DailyGuideAfrica.com 9/4/18).
It is quite clear that some corrupt internal detractor of the New Patriotic Party (NPP) and his or her associates are looking forward to being offered the Auditor-General's job; and on the latter count, it would be a great mistake for the Chief Resident of Jubilee House to give in to such treacherous shenanigans. What is also clear here is that there is a lot of bureaucratic red-tape at the Auditor-General's Department that seems to be unhealthily slowing down the sacred business of the people, as it were. Whoever under whose portfolio this department falls must put her/his feet on the ground and get rid of some of these useless "Entities" or whatever those parasitic boards are called over there these days in order to get the government running as fast and efficiently as it ought to.
You see, caustically slamming Mr. Domelevo for being obsessed with the media spotlight is a glaring streak of envy; and I was a bit taken aback to recognize the fact that it was the editors and publishers of the unabashedly NPP-leaning DailyGuideAfrica newspaper that so callously decided to throw the man literally under the bus. This was quite predictable, though, because in recent weeks and months, Mr. Domelevo has been alleged by the media to have called the professional integrity of some heavyweight Akufo-Addo ministerial operatives into question. This, however, ought not to occasion any petty acts of vendetta against the Auditor-General. All that those who have been put under unflattering media spotlight need to do is to come clean, shame whatever deuce descended on Mr. Domelevo and caused him to act so quirkily or idiosyncratically and then move on.com, as it were. After all, we don't live in the best or the most perfect of worlds. As well, if anything at all, we ought to be thankful for the fact that we have forthcoming non-sycophants like Mr. Domelevo in the higher echelons of government who are not afraid to call a spade by its proper nominal designation – a spade.
You see, if I were the Chief Resident of Jubilee House, I would be more suspicious of those Judgment-Debt Scammers who are obviously trying to stampede the Auditor-General out of office. But this, too, by the way, is all too Ghanaian alright. Except that an inimitably progressive leader like President Akufo-Addo ought not to fall facilely for such a cheap clap trap.
*Visit my blog at: kwameokoampaahoofe.wordpress.com Ghanaffairs
By Kwame Okoampa-Ahoofe, Jr., Ph.D.
English Department, SUNY-Nassau
Garden City, New York
September 5, 2018
E-mail: [email protected]