Come To Our Aid Kpobiman East Residents Appeals To Government And The Ga West MCE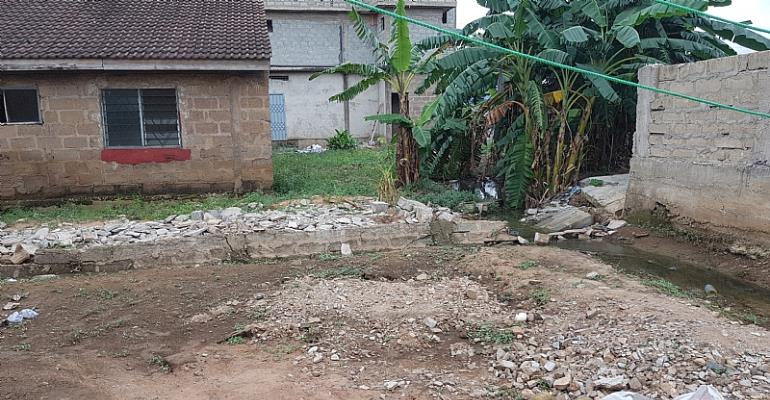 The Chairman of the Residents Association Of kpobiman East, a community in the Ga west district, Mr. Gideon Atakorah Boatey has appeal to the president of Ghana Nana Addo Dankwa Akufo-Addo and the municpal chief executive, Clement Nii Lamptey Wilkinson to stop a developer who has built to block the main Kpobiman water way.
These residents living on the right side of the toll booth behind the Ready Filling Station while facing Nsawam say the blockage causes rain water from Preceding towns to flood their homes.
Efforts by authorities from the Municipal Nadmo office to get Mr. George Kwasi Boateng, the developer to construct a drainage for the free flow of the water has fallen on deaf ears.
Meanwhile "Mr. Kwasi Boateng who claims to be a member of the national security has threatens to shoot anyone who comes close to his property" said Mr. Atakorah Boatey
It appears several others are are planning to leverage on Mr Kwesi Boateng's move to further block the water way.
The flooding has caused consideration damage to properties and prevents residents from using that part of the stretch during rainy season.
Subsequent correspondence by the the assembly member of the area Hon. Selina Nukpetah Avevor to get the MCE for Ga west, Clement Nii Lamptey Wilkinson to stop the indiscriminate construction in the area has failed.
Mr. Atakorah Boatey and residents are therefore appealing to the authorities to quickly intervene to forestall any looming danger