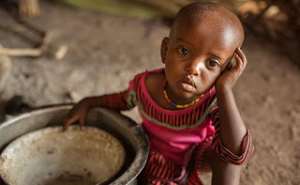 Our articles revealing the truth about HIV-Aids and Ebola biological weapons are to protect this little girl but a nightmare to the US government, Centers for Disease Control and World Health Organization
Look on the internet and search for health blogs, you'll never find any health blog of this kind. Since July 3, 2016, the health blog 'Secrets of HIV-Aids and Ebola Facts Journal was launched the instant success of this extraordinary health blog hasn't only been politicians' nightmare but also giving health institutions such as World Health Organization and Centers for Diseases Control a severe headache.
The significance of this blog is to identify all the man-made diseases and bioweapons the US government has been spreading in Third Word Countries, yet, the World Health Organization and the Centers for Disease Control have misled and deceived the world to believe that those diseases were either caused by poverty, bats or appeared miraculously from heaven.
Some of these diseases which independent scientists and research have proved to be man-made diseases are HIV-Aids, Zika, Ebola, Lassa fever, Nodding syndrome, Kaposi's sarcoma, Burkitt's lymphoma and a host of others. While many health blogs have followed WHO and CDC to deceive the world, we want to be neutral to provide the right information.
A good product doesn't need an advert. With our sub-headings: "The lies of political, medical, pharmaceutical and military establishments on health matters and diseases facts contrary to what CDC and WHO want you to know," within a short period, our blog became the best readers' choice.
For example, the information about certain diseases, such as Aids, Ebola, Burkitt's lymphoma Nodding disease etc, provided on the websites of the World Health Organization, and the Centers for Disease Control is false, totally baseless-false information which has misled the world to increase the spread of the viruses but they find it hard to take them away from their websites.
With the constant challenge and continuous exposing of WHO, CDC, the US government, pharmaceutical companies, our health blog has become a target because it's considered a threat to national security, especially, since the writers of the health blog are a scientist, a medical doctor, and a journalist.
Thus, our blog is experiencing terrestrial activities or some unseen forces want to sabotage our efforts, or probably pull it down and since it's impossible we are now facing certain problems.
Despite that, we have published over seven hundred articles, and Google has indexed 655 articles on our blog, articles on the blog are very hard to be seen in Google search engine. This is something we have never experienced before.
Our data reveals that our readers are from social media but not through Google search engine. For example, one of our articles generated over 8,000 views within three days, the readers were from various social media with the highest from Facebook.
Entry

Pageviews

THE DARK SIDE OF PHILANTHROPIST BILL GATES THAT MA...

Mar 12, 2018, 1 comment

10663

THE EUGENICS AGENDA

Mar 10, 2017

2774

HIV-AIDS AND EBOLA: BELGIUM PROF. VAN DER GROEN LI...

Aug 3, 2016

1097

THE VACCINE CONTROVERSY AND CHILD SAFETY

Mar 7, 2018, 2 comments

450

NUCLEAR EXPERIMENT ON THE DISABLED REVEALS THE BEG...

Mar 17, 2018, 1 comment

218
We can't narrate the number of times our social media has been blocked and for unknown reasons deleted. It sounds ridiculous that when searching our blog in Google search engine only the links or URLs of three or four articles we have published appears so where is the rest?
Without any reason or penalty the SEO of the blog dropped and since then the visibility of the blog is gone. This is hard to explain.
The experience we are facing now in regard to what we write on our blog is a concrete evidence that we are writing the truth and certain authorities are scared to death. They say desperate people do desperate things. People kill and try to eliminate all pieces of evidence to avoid justice.
We haven't killed anyone, therefore we have nothing to be scared of but if certain authorities think our blog poses a threat to national security, therefore, they will do anything or everything to discourage us, then they are deceiving themselves.
We have already identified our background and the foundation of the blog is as solid as a rock. Nothing will discourage or prevent us from giving the right information to the cheated general public.
If the world has about 5% of writers that follow the truth we shall see a better world than today. Nobody cares about the truth but everyone cares about money.
Where are we taking money if everyone will return to the dust without a penny?
Our motto is: The truth will defeat lies and the light will conquer darkness. We shall live with it because the obstacle we encounter rather motivates us.
Reference to 'Secrets Of HIV-Aids Ebola Facts Journal' - https://secretsofaidsandebola.blogspot.com/