There Is Nothing Wrong With Tithing; Churches Need Money Too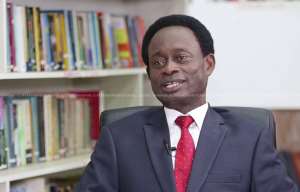 Immediate past Chairman of the Church of Pentecost has said that the issue of Christians having to pay tithes is biblical and a duty of all Christians.
According to the Preacher, every institution needs money to sustain their activities and the Church is no exception, adding that "churches can function well if they get money".
Speaking on Citi TV's Face to Face to Face with Godfred Akoto, Apostle Professor Opoku Onyinah explained that tithes are a source of funding to ensure the sustenance of Churches, and further explained that the bible in the old testament is clear on how Christians should give money to support the activities of the Church.
"Every institution cannot thrive without money, wherever you are, you need money to thrive. If don't get money, you cannot function. So Churches can function well if they get money."
"The Bible gives a basic way of giving money in the old testament and that is tithing. When the Lord Jesus Christ came, he spoke about tithing and he did not condemn tithing. I will still encourage Christians to do that."
He further encouraged all Christians to fulfill their tithe obligations to their churches. Tithing is one of the most contentious issues within the Christendom which some churches divided over whether it is right or not.
Whereas others believe it is an old testament practice that was specific to the levites at the time, others argue that it still stands and remains relevant to the body of Christ today.
I am Satisfied with my work as head of Pentecost Church.
Apostle Professor Opoku Onyinah served the Church Pentecost as Chairman for the past 10 years.
According to him, he is very satisfied with how far the Lord has brought him and the Church of Pentecost.
Apostle Onyinah said when he reflects on his life as a Minister of the Church, he is very proud of what he has been able to achieve adding that he has been very faithful to the call and the work God asked him to do.
"I am very satisfied with where the Lord has brought me and the Church of Pentecost. When I began my Ministry 42 years ago at Wa. I had a divine encounter where God asked me to specifically preach Christ. I think I have been very faithful to my call from my point of view and so I am satisfied that I have done what God wanted me to do."
Apostle Onyinah bows out after 42 years of service.
Apostle Prof. Opoku Onyinah, the immediate-past Chairman of The Church of Pentecost, on August 26, 2018 officially bowed out of active service after 42 years of successful ministry, which saw him, become the head of the Church for a period spanning 10 years.
He is succeeded by the former head of the COP in Koforidua Apostle Eric Kwabena Nyamekye as the new Chairman of the Church.
His period saw a tremendous growth and transformation of the Church of Pentecost which now has a national population of over 2.5 million members.