UN-backed Libya truce doomed without proper deal: analysts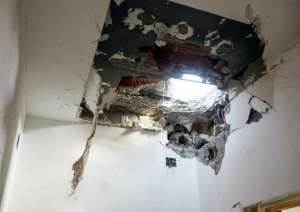 A ceasefire in Libya brokered by the UN will fail to reduce tensions between myriad armed groups without a sustainable political agreement on security reform, experts said Wednesday.
The truce -- signed on Tuesday -- appears to be tentatively holding, despite a few exchanges of fire overnight in the south of capital.
Fighting in and around Tripoli since August 27 has killed at least 63 people and wounded 159, most of them civilians, according to the Libyan health ministry.
Even if the fragile ceasefire continues to largely endure over the coming days, it is nothing more than a band-aid, analysts told AFP.
"The ceasefire agreement cannot hold for long," said Libyan security specialist Omran Khalil.
The international community's biggest concern, he said, was to "preserve what remains" of the Tripoli-based Government of National Accord (GNA), as they fear their efforts could be "in vain".
The UN itself acknowledges the limits of the truce it has brokered.
Tuesday's meeting did "not aim to fix all the Libyan capital's security problems", the UN mission in Libya (UNSMIL) said on Twitter.
"It seeks to agree on a broader framework on the way to start addressing these issues."
'Status quo unsustainable'
Despite being mandated by a December 2015 political accord to overhaul and unify security forces, the GNA has failed to do so.
Rather than removing the militias from major cities and integrating them into regular security forces, the government continues to rely on these unreformed armed groups to keep the capital secure.
This has enabled the militias to accumulate enormous power and economic sway.
The 2015 deal "complicated the security situation and encouraged militias to battle for influence," said Khaled el-Montassar, professor of international relations at the University of Tripoli.
Another analyst said tensions boiled over because Tripoli-based militias had been allowed to accumulate disproportionate influence, compared with other armed groups outside the capital.
"The current fighting has upended what was an unsustainable status quo in Tripoli," said Wolfram Lacher, a Researcher for the German Institute for International and Security Affairs.
The militias' uneven access to resources "prompted armed groups from outside Tripoli, who saw themselves excluded from access to wealth and power, to mobilise", he said.
The recent fighting has pitted armed groups from Tarhuna and Misrata against Tripoli militias supposed to be under the GNA's control.
But "as catastrophic as the current fighting is, it has opened a window of opportunity for negotiating more sustainable security arrangements in Tripoli," added Lacher.
"This window of opportunity is closing fast. The ceasefire is very fragile, and there is a real risk of further escalation.
"A new negotiating framework is needed -- one that closely combines talks over political power sharing and security arrangements."
'Unkept promises'
Some doubt whether the UN has the authority to broker a long-term deal.
"It seems clear that the international community, after failing all its obligations towards Libya, today seems impotent and overwhelmed by events," said Karim Bitar at the Paris-based Institute of International and Strategic Affairs.
Most analysts approached by AFP agreed a radical change of approach is required.
"What is needed now is a new security plan for the capital and some kind of political shake-up," said Claudia Gazzini of the International Crisis Group.
Meanwhile, Tahar El-Sonni, an adviser to GNA leader Fayez al-Sarraj, accused the international community of breaking its "promises" to hold to account those undermining Libya's political process.
Welcoming the ceasefire, the United States, Britain, France and Italy reaffirmed their support for the GNA, in a joint declaration late on Tuesday.
But this does little to mask divisions among Western powers over the political situation in the country.
Also on Tuesday, Italy's Interior Minister Matteo Salvini criticised France's role in the oil-rich North African country.
France, which is pushing for elections in Libya before the end of the year, defended its role.