Adongo Boycotts Parliamentary Probe Into Banking Crisis, Alleges Cover-Up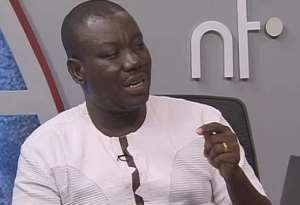 NDC MP for Bolgatanga Central, Isaac Adongo, has boycotted the legislature's probe into the banking crisis.
Mr. Adongo, a member of Parliament's Finance Committee, said the processes was a mere "rubber stamp process."
"It will deliver no value. I am not willing to be part of it," he told the media.
He has complained that the committee does not have the best of documentation and records to assist members of the committee with the probe.
"These are the documents they gave to us; statement of the banking sector, press release by the Bank of Ghana, Governor's speech. When it comes to KPMG, they only give you conditions and opinions of uniBank."
He also said the committee does not have access to the asset quality reviews at uniBank or the terms of reference for the work KPMG did in relation to the bank.
In addition, he suspects the government may be trying to shield some individuals.
"They are just trying to cover up. That is all they are trying to do… I don't take part in rubber stamp meetings."
"Those documents will give me a clearer understanding of what happened and not what the government tells me. I must read the documents and ask the Governor the appropriate questions."
The Finance Committee of Parliament is holding hearings from September 5 to September 7.
Representatives from the Bank of Ghana, Consolidated Bank, KPMG, PwC and the Ministry of Finance are expected to appear before the hearing.
But owners and directors of the seven banks that have collapsed, some under controversial circumstances, will not be invited, according to the Chairman of the Finance Committee, Dr. Mark Assibey Yeboah.
Despite numerous petitions to the Speaker to open up the process and make it public, the hearing is proceeding in camera.
Officials of the Bank of Ghana, including the Governor, Dr. Ernest Addison, appeared before the committee on Wednesday morning.