NDC Polls: Work with united front - Ahoi brothers to new executives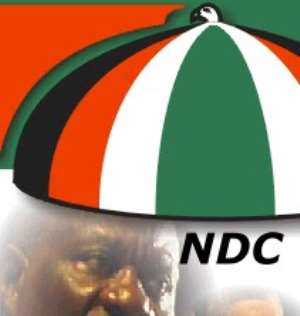 The Ahoi brothers, accompanied by Mr. Kofi Totobi Quakyi, Dr. Frank John Abu, last Saturday stormed the NDC congress grounds in Western Region to witness proceedings of the event.
Although they did not take any active part before, during and after the polls, their presence alone was enough to motivate some party members and to scare many other defiant characters reportedly undermining authorities in the party.
Described as Accra caucus, the former Ministers of state sat through out the voting process until the last ballot was counted and winners declared, and sworn into office.
Considered as heavy weights in the party, the Ahoi's, made up of Mr. Ato Ahoi, Professor Kwamena Ahoi, and Kwesi Ahoi, have been part and parcel of the NDC journey and served in various capacities in government.
In the past, they helped in serving as Ministers of state in the administration of former President Jerry John Rawlings.
They also served under Late President John Evans Atta Mills in various capacities and subsequently during the John Dramani Mahama administration.
As power brokers in the party with unquantifiable influence nationwide, these geniuses have identified and nurtured many talents in NDC through out their political lives and many of these people have contributed towards national development.
Knowing these facts, and haven't served in various capacities from polling station level to the Regional level, Nana Kojo Toku, the newly elected Western Regional Chairman of the NDC said in an interview that he knew it was important to acknwoledge their presence.
As the newly elected Regional Chairman, when he was pronounced winner, his first move was to go and kneel before these counsel of elders to ask for their blessings and utmost support to shoulder the political burden of the region he once handled.
They responded positively, assuring him of their unflinching support as he takes charge of the political swing region.
Dr. Frank John Abu, who once served as Western Regional Chairman of the party and now joins the counsel of elders, performed the swearing in ceremony.
He explained to the newly elected regional executive the significance of the oath of office, and secrecy before administering the oath whilst swearing them into office.
In a brief remark, after the swearing in, he cautioned the fresh executive to eschew cynicism and work in unity and harmony.
He said following the success of the polls, the winners of the elections must reach out to those who lost, and forge ahead with a united front ahead of 2020 elections.
Other notable figures of the party who graced the occasion were, Alhaji Mahama Fuseini, Former Western Regional Vice Chairman of the party, Solomon Yaw Nkansah, National Communications Director of the party who is aspiring to become the next National Organizer of the party and Araba Tagoe, aspiring Deputy National Women Organizer among others.
The election was supervised by the Western Regional Director of the Electoral Commission (EC) Stephen Opoku Mensah.