Argentina Doctors Called It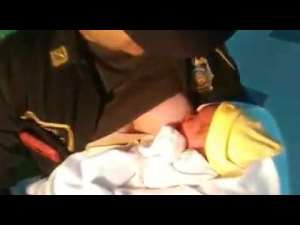 An unbelievable documentary photo and at the same time a very pathetic scene: A policewoman sits in a hospital in Argentina and nurses a strange baby while on duty, because the doctors did not want to take care of the baby.
The policewoman, Celeste Ayala is the mother of two small children. While she was on a night shift duty in the hospital, she noticed a screaming baby but since no ward nurse seemed to be taking care of the baby, she asked the doctors to take care of the baby themselves but unfortunately the doctors refused.
The policewoman who is also a newly minted mother gave the six months old baby girl her breast and the baby instantly stopped screaming. It's sad that the Argentina doctors called the caring action of the policewoman "dirty".
Francis Tawiah (Duisburg - Germany)