Building a National Prayer Cathedral in a Secular State.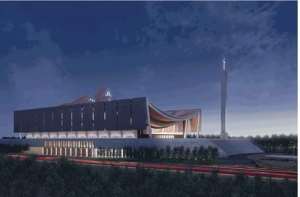 Over the past few days the good people of this country have been engrossed in a fierce debate on the proposal by His Excellency the President Nana Addo Dankwa Akufo-Addo to build a National Cathedral for the country in commemoration of the country's 60th independence anniversary. The country appears sharply divided over this issue just like any other issue that has political undertones. But need we be split up over this as a people, must the building of a structure that will become not only a national monument but also a national icon by all intents and purposes generate so much controversy? No I do not think so, I believe we should rather discuss this issue dispassionately as a people and reach consensus on it no matter how varied our opinions on it.
On the 16th of March,2017 His Excellency the President inaugurated a 13 member Board of Trustees for the national cathedral project primarily aimed at building an interdenominational sanctuary for the state. This edifice also designed for state occasions including conferences and exhibitions among others will also comprise of not only a 5000 seat auditorium for public events but also a Bible museum and documentation centre, an art gallery and a music school not to mention the sizable number of chapels and a baptistry.
One year down the line after the inauguration of the board of trustees we are told the actual work done so far are two; the design of the cathedral and it was rightfully designed by Sir. David Adjaye, a proud Ghanaian architect and secondly a site has been identified for construction, the site chosen has duly been designated in the land use plan for the area as a mixed commercial, ceremonial and historical enclave of the National Capital, this has already been designated.
Costing and fundraising for the project have not commenced yet. The project however will not be funded with state funds but will be funded principally from voluntary contributions from the Christian community, philanthropists and grants from development partners. So principally government's participation in the project are limited to providing only two items; leadership and land free of encumbrances.
However those with dissenting views with regards to the construction of the national cathedral have also argued forcefully that a national cathedral is not a priority at this point in time and that there are very compelling bread and butter issues that must engage the attention of the President and his government and not the building of a national cathedral.
These concerns come on the heels of recent negative happenings in various facets of our national life including our hospitals where we are grappling with the obnoxious "No bed" syndrome, our Senior High Schools where inadequate facilities have compelled government to adopt the double track system effective next academic year. Unemployment continues to soar higher not to talk of our poor road infrastructure among others.
To those who argue against the building of a national cathedral these are the issues that should rather be addressed by the President albeit forcefully. To them any spending that is geared towards the building of a national cathedral amounts to wastage of state resources. This position I find quite intriguing and incomprehensible because the President has been unequivocal about the source of funding for the national cathedral and it is clear the building of the national cathedral will not be funded by the state.
What is more, we have been living with these supposed challenges since time immemorial and every government strives in one way or the other to surmount these challenges through its own policies and programs and the Nana Akufo-Addo led government has been no exception in addressing these bread and butter issues confronting the country.
Infact this government has been aggressive in its efforts in dealing head on with the numerous challenges as a people. Only recently government hinted of an ambitious two billion dollars bauxite barter program with the Chinese government the first tranch of $500 million is expected by the last quarter of this year purposely to build critical road infrastructure including resuscitating the country's collapsed railway industry, hospitals, affordable housing units and many more which will invariably throw up the much needed jobs.
Planting for food and jobs is modernising our agriculture and ultimately aimed at ensuring food security. The Nation Builders Corps (NaBCo) has been introduced to reduce unemployment not to mention the "One District, One Factory" industrialization drive which is currently ongoing. It is obvious a lot is being done to address basic and fundamental developmental challenges facing the country so the President and his government are doing their best to address our national challenges.
Personally I believe building a national cathedral for a nation like Ghana which prides itself as a God fearing nation as a lasting monument to mark 60 years of our nationhood is not out of place. In the words of President Akufo-Addo himself "the cathedral will address the missing link in our nation's architecture by providing a church of national purpose. It will be an interdenominational house of worship and prayer as well as serve the venue for formal state occasions of a religious nature such as presidential inaugurations, state funerals and national thanksgiving services".
When Former President John Agyekum Kufour in 2007 started building Golden Jubilee House (Formerly Flagstaff House) as a monument to mark the Golden Jubilee of our independence to enable us move the seat of government from the Osu Castle, a vestige of colonialism, same concerns were raised, similar criticisms were advanced against that laudable project then but today we have all seen the wisdom in building that beautiful edifice as the seat of government for the Republic of Ghana, a monument we are all proud of.
I have heard some argue in certain quarters that because Ghana is a secular state a National Mosque and a national shrine must also be built to reflect our religious pluralism, I have absolutely no qualms about that, those are very fantastic suggestions but our elders say "when you crack a palm full of palm kennel to chew, you chew them one after the other". National buildings of other religious persuasions can follow after the national cathedral project has been completed, we definitely have to start from somewhere. Who knows maybe on our 70th Anniversary, Centenary or any other occasion a proposal can also be made for building other religious edifices like a national mosque or a national shrine.
The only concern I have with this national cathedral project is the brouhaha surrounding the land on which the projected will be situated. It appears the planned demolition of some existing buildings on the designated plot does not sit well with a lot of our compatriots. I would therefore admonish the board of trustees and government to quickly take steps to resolve all those outstanding issues with the site even if it means acquiring an entirely new site that is truly free from all encumbrances and controversy. The building of a national cathedral should not left anyone worse off.
On this note I would like to commend His Excellency the President Nana Addo Dankwa Akufo-Addo for this bold initiative and farsightedness. We are told that "The new structure is inspired by the concepts of unity, harmony and spirituality and it will be a gathering place for people of all faiths." There couldn't have been any better news than this. We the Christian community of Ghana will forever be grateful to him.
Once again let me reiterate the fact that as long as the national cathedral is not going to be funded with the taxpayers money I cannot fathom why we should not support this great initiative which portends well for the religious and social future of this country. May God continue to bless our homeland Ghana and make us great and strong.
Felix Kwame Quainoo is a Public Interest Writer based at Aboso in Western Region.
[email protected]
0244998919/0207744933