Gas Quarrel Over Dead King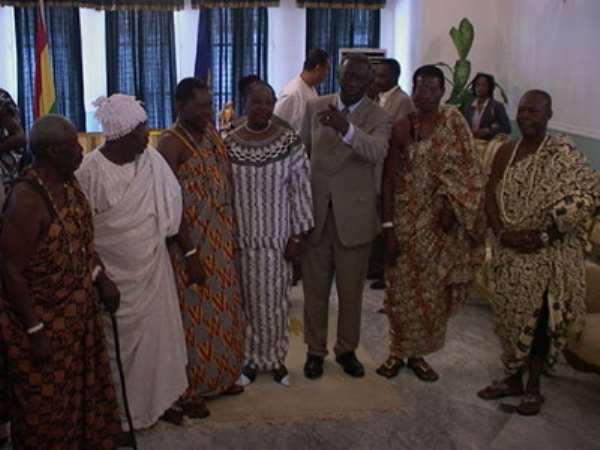 THERE IS a looming danger over the burial of the late Ga Mantse, Nii Amugi II, as the royal family of the late king, and the kingmakers of the Ga Paramount Stool, have crossed swords with the Ga Traditional Council, and some Ga citizens, and warned them, to leave the burial of the late king to them as custom demands, or face the consequences.
They have therefore, declared null and void, the date announced to the President of the Republic of Ghana, that is November 26, as the burial date, and asked the traditional council and its cohorts, to render accounts of all donations, so far received, for record purposes and to enable them to acknowledge the donors.
At a press conference, yesterday at the Ga Mantse Palace, North Kaneshie, Accra, the Royal Amugi We family, and the kingmakers accused the Ga Traditional Council and some Ga citizens of hijacking the funeral of the late king, contrary to laid-down traditional customs.
According to them, the customs, as recognised under the Marriage Ordinance, whereby the corpse or body of the deceased, reverts to the family, which must be the one to play the primary role, in the funeral of the deceased member of the family the traditional council is acting contrarily.
The royal family's spokesperson, Squadron Leader George Tagoe who is also the co-ordinator of the Ga Royal Stool, said the announcement of the burial date to his Excellency, the President, without prior consultation and consent of, the Royal Family and Djaase is highly provocative, and contrary to Ga customs. They mentioned the sidelining of family members and kingmakers from sitting in some of the council meetings with visitors, opening bank account, for the funeral, without the involvement of the family, failure of the council to give relevant information about the conduct of the account, as well as the announcement of the death of the Chief to the Ga Traditional Council, without presenting customary drinks as some of the decisions the Ga Traditional Council has unilaterally taken to the displeasure of the family.
The family said, any further actions and decisions, without the prior consent of the royal family would be resisted, vehemently, and the appropriate forum sought for redress.
The family has therefore, announced that a new date would be announced, after consultations with the funeral committee, which would supercede the earlier one announced by the Ga Traditional Council.
The family also, warned all individuals and companies manufacturing T-shirts, funeral attires, and other memorabilia, in connection with the chief's burial, to stop that action, or face the consequences.
"At the appropriate time, the appointed funeral committee, will advertise the approved memorabilia for public patronage", the family spokesperson said.