Mixed Hall-Residence At KNUST Is Unavoidable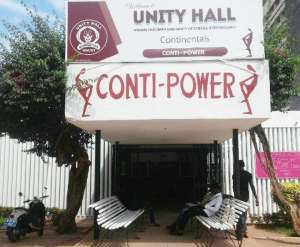 The hullabaloo with the mixed hall accommodation in KNUST seems to have been concluded by the recent court ruling, unless an appeal is in the pipeline. Whichever way it goes finally though, some issues in it need a closer look to ensure that peace and harmony eventually prevails in the residential halls particularly when education has been high on the national developmental agenda lately, and all innovative ideas are solicited and applied.
The dynamics in financial and social policies at the universities do not have to be different from what pertains in our homes and the nation at large. Seriously speaking, they cannot be different if the training and knowledge of the students have to reflect the national character and be useful to Ghana. The privileges enjoyed by varsity students have changed from the early days; from study allowances, single rooms, free laundry, snacks, vacation training, etc. in comparison to the "fee-paying" overcrowded varsity life today.
Yes, these privileges made possible by the lean student population university life enjoyable. The one-student-per-room population at that time gives an idea of the population size, compared to now! In same vein also let's compare the male-female student's ratio now and then. No rocket science needed if in the premier three universities for example, only one hall out of four respectively was occupied by female students. Those were the days when tradition perceived the man as the go-getter including education, while the woman was the receiver/keeper.
Now the gender environment has changed everywhere, and the varsities have withdrawn/cancelled the privileges because of government's inability in funding the large student population now? Let us face realities as academicians are wont to do, and accept this mixed-hall system in the universities, for the touted 50-50 aspiration of women's participation in public life is rife.
Fellow Katangees! Let us cha-a-a-a-rge! But this time the charging is to bring the sisters home to reside with you! If times have changed and women have now come to the realization that they can do as much as men if they put their minds to it then it is 50 per cent university space they are fighting for. Do they not need propping and mentoring, and what better place to do this than in "dynamic" environments as in KATANGA and CONTI! Without the mentoring and integration Ghana will end up having weak women forced into leadership positions all around. This is not what will benefit our national development agenda, or will it? Incidentally, let's note that Katanga originally had "Dynamic" qualifying this nickname. Hey guys, the tune is changing, if it has not changed already, and so the dance has to change, so mixing with the women students is not a bad idea.
Interestingly it is worth reminding ourselves that some of these sisters are very "dynamic", so while some of them need propping up, others are already hardy enough to fit and rub shoulders; even some of them are capable of mentoring some men. They could be described as the modern versions of legendary Nana Yaa Asantewaa who led an Asante war against the colonial British in the Gold Coast.
So let us positively see the residential Halls as an extension of the lecture halls where both sexes mix peaceably in studies, and as the office life where men and women work together in peace; and as our in our homes where we share compound houses with both sexes in their different ages etc. this is a challenge but also an opportunity to learn some practical socialization. Fellow Katangees and 'Continentals', let's call a truce, hang the gloves and accept the mixed-hall arrangement.