LeBron James Declares Mbappe As The 'Chosen One Jnr'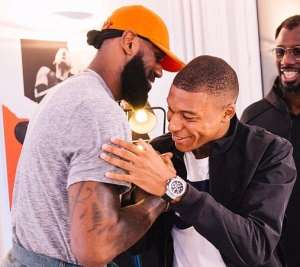 NBA superstar, LeBron James, has conferred 'The Chosen One Jnr' title on France international, Kylian Mbappe, as basketball royalty met the World Cup winner and Neymar on Thursday night.
The NBA star posed for pictures with the Paris Saint-Germain duo before signing a Los Angeles Lakers jersey and basketball for Mbappe.
LeBron was then presented with a PSG shirt before posing for photos on each athlete's Instagram page. Mbappe was particularly starstruck with the LA Lakers man, showing off his gifts to all of his followers on his story.
'King James' was also high in praise of the World Cup winner by dubbing him 'The Chosen One Jnr' after referring to himself as 'The Chosen One'.
Brazil international Neymar gleamed as he got his picture with the four-time MVP on Thursday evening.
LeBron is a self-proclaimed Liverpool fan and is a stakeholder in the Merseyside club. He recently made clear his allegiance to Jurgen Klopp's side while on camera.
James received a two per cent stake in the club in 2011, worth around £4.95m. But, according to ESPN, the NBA star's investment is now paying dividend.
After the Reds reached last season's Champions League final with semi-final victory over Roma, the stake is now worth up to £24.4m.
James, one of the big stars in the NBA, last July left the Cleveland Cavaliers and signed a four-year contract worth $154 million with the Los Angeles Lakers.
His agency made the announcement Sunday — less than 24 hours after the NBA's free agency market opened.