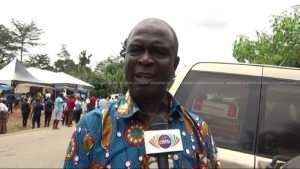 (DCE), Mr. Osei-Bonsu, Sr.
During a police post handing-over ceremony at Anwiam, a small township in the Asunafo-South District in the Brong-Ahafo Region, recently, the District Chief Executive Officer (DCE), Mr. Osei-Bonsu, Sr., was reported to have advised the police officers in the district to shoot, on sight, any civilian who either attacked or attempted to attack them (See "Asunafo-South DCE Tells Police to Shoot Civilians Who Attacks[sic] Them" CitiNewsRoom.com / Modernghana.com 8/17/18). It is not clear precisely in what context Mr. Osei-Bonsu issued his statement of advice to the police, although we are also informed that the Asunafo-South District has experienced a high spate of armed robbery and burglary in recent weeks and months and may still be experiencing this quality-of-life menace.
The preceding chaotic state of affairs may very well have prompted a very frustrated Mr. Osei-Bonsu to issue his inexcusably reckless and inadvisably exuberant open-season command for the police to open fire at any individual or group of civilians who either attacked them physically or attempted to attack them in such manner. The same apparent state of wanton social disorder may very well have laudably and positively inspired the members of the Kukuom Cooperative Farmers' and Marketing Union to undertake the construction of the police post in order to facilitate the legitimate promotion of law, order and civility in social conduct. Indeed, according to Nana Kumanin, III, the President of the Kukuom Cooperative Cocoa Farmers and Marketing Union, the central government alone could not be expected to carry out every single development project in the country.
This part of the story naturally reminded me of Mr. Osei Kwame Despite, the renowned business mogul and owner of the Peace-FM Radio network, who has also been philanthropically engaged in the building of police stations all over the country. But, of course, it was not this aspect of the story that piqued my interest and got me thinking about the imperative need to instill discipline in some of these District Chief Executives. This is also not the very first time that any DCE has been reported to have uttered remarks that were deemed to be incompatible with their official status or position of public trust. I am also quite certain that this will not be the last time that we shall be hearing about the intemperate and lame-brained remarks of any local executive appointee. To be certain, Mr. Osei-Bonsu makes a strong and very convincing case for the election of all of our local public administrators and/or District Chief Executives.
Equally significant is for the government or Jubilee House to establish more effective rules for the selection and appointment of these local government officials, including the requirement of the psychological profiles of any such prospective appointees. I am of the well-informed view that, by and large, our law-enforcement agents are psychologically and professionally well-trained enough to effectively deal with social disorder and wanton acts of violence in civil society. Oftentimes, the problem that they are especially confronted with has to do with complete dearth or inadequate logistics, including guns bullet-proof vests and other protective gear and the requisite firepower that would enable them to effectively deal with deadly and sophisticated and well-armed criminals like armed robbers and burglars. As well, the inadequate supply of well-equipped crime-fighting vehicles for effective policing.
Most of all, however, I was elated to "hear" Mr. Ebenezer Larbi, an Assistant Commissioner of Police (ACP) and the Goaso Divisional Police Commander, tell reckless and undisciplined politicians like Mr. Osei-Bonsu to keep their violent behavior, temper and silly thoughts to themselves. While reportedly receiving the keys to the newly constructed police post from the President of the Kukuom Cooperative Cocoa Farmers' and Marketing Union, Commissioner Larbi is reported to have strongly albeit obliquely warned against any undue interference in the professional and official operations of the uniformed men and women who worked under his command. We hope Mr. Osei-Bonsu, Sr., got this message loud and clear.
*Visit my blog at: kwameokoampaahoofe.wordpress.com Ghanaffairs
By Kwame Okoampa-Ahoofe, Jr., Ph.D.
English Department, SUNY-Nassau
Garden City, New York
August 31, 2018
E-mail: [email protected]