Ghana Needs To Be More Breastfeeding Friendly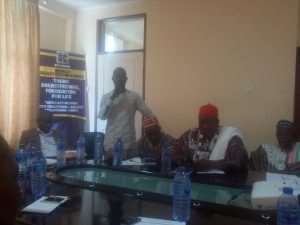 A Non-Governmental Organization, Human Rights, and Sustainable Development for All (RISE Ghana) is calling on the government to ensure that public and private institutions create space for breastfeeding mothers.
According to them, the lack of spaces for breastfeeding corners in most workplaces for mothers after their maternity leave is hindering exclusive breasting.
The Executive Director of RISE Ghana, Awal Ahmed Kariama, indicated that through exclusive breastfeeding has significantly contributed to a reduction in neonatal deaths in the country, the absence of breastfeeding corners is negatively affecting the initiative.
Speaking at an advocacy meeting with traditional leaders to mark World Breastfeeding Week in Bolgatanga in the Upper East Region, Awal Kariama impressed on the government to initiate and enforce breastfeeding centers at all workplaces to resolve the situation.
"There is a huge gap in terms of our structures and systems to support mothers to breastfeed. Breastfeeding at workplaces is one of the challenges in the country, and that is why we are advocating and raising awareness on the importance of breastfeeding."
"There is the urgent need for duty bearers and heads of institutions to create breastfeeding centers and corners at all workplaces for mothers to breastfeed their babies on demand because the current stereoscope affects exclusive breastfeeding greatly."
The Upper East Regional Director of Health Services, Dr. Wilfred Ofosu, opined that although the provision of breastfeeding corners in the country could be challenging, it was critical to reducing neonatal mortality.
"After their maternity leave, we are encouraging the workplaces to set up rest places with a caretaker so that, will enable breastfeeding mothers to leave their babies there and can come from time to time to breastfeed their babies and go back to work so that we can enhance exclusive breastfeeding."
The traditional leaders, however, pledged to use every event available within their respective areas to promote effective breastfeeding.