Open Letter to the Attorney General Ms Gloria Akuffo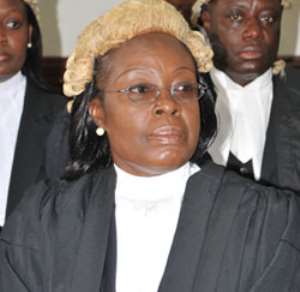 Dear Ms Gloria Akuffo,
The peace of God be unto you. I am although a Ghanaian by origin, I am resident in Europe. However, my distant place of abode does not stop me from showing interest in the welfare of Ghana and from being at the service of my people and Ghana my motherland. Subsequently, I am obliged to write to convey this advisory message to you.
You should count yourself fortunate to have been appointed by His Excellency the President, Nana Addo Dankwa Akufo-Addo, to serve in his New Patriotic Party (NPP) government in the capacity of Attorney General, to serve your country and people. The expertise with which you will handle the duties of your office will go a long way to remove the stigma of lawlessness, institutional corruption, and committal of crimes with impunity by those who believe themselves to be above the laws of the land. Official corruption in Ghana is militating against the development of Ghana and costing Ghanaians their respect in the sight of our White contemporaries.
Not long ago, you went to kneel before the Asante "Overlord", Otumfuo Osei Tutu II, to solicit his blessings for you to succeed in discharging your duties. I have no qualms about you believing in traditional blessings by our elders according to our traditional spirituality. Nonetheless, I shall advise you to seek the expertise of those who may happen to be more academically and professionally knowledgeable than you on certain issues which fall within the ambit of the duties of your position. The fact that you are a lawyer and an Attorney General does not mean that you will solely be capable of handling all forms and shapes of cases brought before you. You will need some experts to guide you. If it were not so, we will not have consultants around to assist in solving intricate issues.
A consultant is someone who advises people on a particular subject. Within reputable international corporate law firms of which I am aware of, they have consultants to give advise to lawyers on certain matters that go beyond the sole professional capabilities of the lawyer concerned.
Seeking expert's advice will go a long way to make you a successful Attorney General than hurtling to kowtow to a traditional chief or elder for blessings and advice.
I pray that you do not do anything that will let people see you as having compromised your office. You have to discharge the duties of your office without fear or favour. It is alleged that Asantehene Otumfuo Osei Tutu II, to whom you prostrated or knelt some months ago for spiritual blessings has approached you with some video. The video is said to be regarding some Kumawu elders or Kingmakers hugging each other at his Manhyia Palace or residence after rightly or wrongly arbitrating the ongoing Kumawu chieftaincy dispute.
I shall strongly advise you not to fall for his trickery but to rather debunk the purported veracity of his claim. The Kumawu elders hugging themselves does not necessarily mean that they had in their hearts accepted his arbitration. Could they not have done so under duress? Does hugging have the potential to negate the consequence of an act of criminality before the law? If you so desire, I shall send you a video which is already a public knowledge to counteract whichever video he has taken to you in an attempt to induce you to tip the scales in his favour and that of his supporters in the ongoing Kumawu chieftaincy case.
Have respect for him but to allow him to influence you to twist verdict in his favour whereas the facts on the ground and the available voluminous credible evidence point to the contrary, then the beginning of your failure and disgrace as an Attorney General will have started.
The inherent corruption in Ghana, as masterminded and orchestrated by our politicians, traditional chiefs, and top civil servants, is the bane of the development of the country and her citizens. Therefore, many a discerning Ghanaian is not ready to countenance any act by whomever that gives credence to it.
Corruption is perpetrated in diverse ways. It is not only about embezzlement of funds and assets but the totality of its dictionary definition of, "dishonest or illegal behaviour involving a person in a position of power, for example, accepting money for doing something illegal or immoral".
Ghanaians are impatiently waiting to see how you and the Special Prosecutor, Hon Martin Amidu, are going to recoup the various sums of gargantuan monies embezzled by some government appointees and their cronies including the infamous swindler, Alfred Agbesi Woyome.
Time is of essence. Please expedite the process of having some known persons that have stolen Ghana's money or caused financial loss to the State arraigned. I am yet to see you crack the whip on the back of those that have committed various devastating crimes against the State and against certain innocent but poor citizens of the nation. All eyes are on you.
To be honest with you, the Ghana judiciary is about 90% the cause of the exacerbating corruption engulfing the nation. Most of the judges and the lawyers are corrupt and incompetent hence the state the country finds herself in today. Is it not too obvious that they sell justice to the highest bidder? What are you and the Chief Justice Mrs Sophia Akuffo doing to address the canker?
Ghanaian electorates voted for a change of government from NDC to NPP to better their circumstances. Their dream and that of the President can happen depending on how you, the Special Prosecutor and the Chief Justice perform. When the judiciary discharges their duties professionally honestly, 90% of the problems facing Ghana come about as a result of the daring perpetration and perpetuation of corruption will have been solved.
Do I have to be a lawyer to know the law or to advise you? No! Then give a needed consideration to this advice from me to you today, Friday, 31 August 2018
Yours Sincerely,
Rockson Adofo