Why Trump and Giuliani Could Never Pay Any Sincere Tribute to Kofi Annan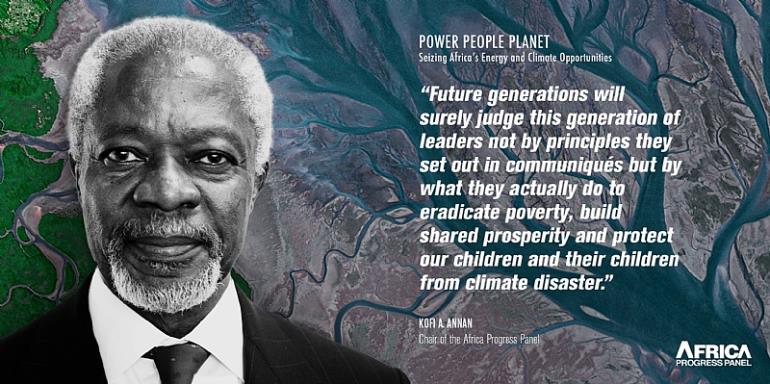 If you lived in New York City between 1995 and 2010, when Mr. Kofi Atta Annan, of Ghana, served as the first Black-African and the 7th Secretary-General of the United Nations Organization (UN), you would need prompt psychiatric examination for asking, in the wake of the recent seismic and epochal passing of the 2001 co-recipient of the Nobel Peace Prize, why the current President of the United States of America, Mr. Donald John Trump, has been deathly silent and not forthcoming in the rendering of any tribute to arguably the most dynamic and progressive personality to have headed the largest and most influential world-peace keeping multinational body (See "Donald Trump Blasted for Silence on Kofi Annan" Classfmonline.com / Ghanaweb.com 8/29/18).
Indeed, if either President Trump or his lickspittle buddy and former New York City Mayor, Mr. Rudolph Giuliani, had come public and expressed any effusive encomiums and/or sympathies for Mr. Annan and his bereaved family, I would have been flabbergasted at such crass and brazen exhibition of cant and abject hypocrisy. Indeed, I would have felt exactly the same way if the late three-term New York City Mayor Edward I. Koch were alive and made any glad-handed attempt to paying tribute to Mr. Annan, or even expressed his condolences to the Annan Family, although I found Mr. Koch to be far more honest and brutally frank in his criticism of Mr. Annan at the time. Largely, the criticism of the latter had to do with parking violation tickets involving foreign diplomats working on behalf of their governments at the New York City headquarters of the United Nations.
Well, for reasons best known to themselves Mayors Koch and Giuliani believed that it was perfectly appropriate for UN diplomats, particularly those from Third-World countries, to pay for parking violation tickets accrued primarily because of urban traffic congestion; in the case of these diplomats, the problem was largely the result of very limited parking and garage spaces, problems that had not apparently been foreseen at the time that the UN Building and its Plaza were constructed in the 1950s and the 1960s. As Secretary-General of the UN, Mr. Annan always insisted that diplomatic immunity privileges be evenly applied across the board by New York City administrators, irrespective of nationality, and not in the invidiously selective manner that Messrs. Koch and Giuliani appeared to be insisting.
It was his staunch and adamant refusal to have the global diplomatic corps wantonly and cavalierly milked by marauding operatives of the New York City Department of Transportation (DOT), and the Traffic Division of the New York City Police Department (NYPD), that made Mr. Annan the prime target of vitriol from Messrs. Koch, Giuliani and Trump. Indeed, it was during one such tiff between then-Mayor Koch and Mr. Annan that I discovered to my utter shock and horror that there were still cultures and ethnic groups in very late 20th-century Ghana that practiced the slavo-sexual customary tradition called Trokosi, primarily practiced among the Anlo-Ewe-speaking denizens of the Volta Region of Ghana. Mr. Koch's one pet peeve in his several run-ins with Mr. Annan was that the latter would make a more meaningful and constructive impact on society by turning his attention to fighting against such regressive and primitive cultural practices as Trokosi.
Now, that was downright racist and very hypocritical, especially in view of the fact that the Jewish-descended Mr. Koch also resented Mr. Annan's constant criticism of Israeli government-sponsored atrocities against Palestinian Arabs. In the case of the high-rise building developer and blowhard real-estate dealer turned President of the United States, Mr. Trump resented the constant reminder to him by Mr. Annan that zoning regulations pertaining to the Lower-East-Side of Manhattan, when the UN Headquarters was located, had to be respected. You see, Mr. Trump wanted to construct the tallest building in New York City near the UN's Headquarters to boost his jumbo-sized ego, but City zoning laws stipulated that no building in the area had to overshadow or rise taller or higher than the UN Headquarters. This was essentially what made the astute Ghanaian-born first-rate global diplomat an irredeemable villain in the bloodshot eyes of these three New York City political bullies.
At any rate, the closest to the payment of any tribute to the memory of Mr. Annan was that which was written and read by the Indian-descended former Governor of South Carolina, Mrs. Nimrata "Nikki" Haley, the current US Ambassador to the UN, on behalf of her boss and her country. This proxy tribute was perfectly hunky-dory with me.
*Visit my blog at: kwameokoampaahoofe.wordpress.com Ghanaffairs
By Kwame Okoampa-Ahoofe, Jr., Ph.D.
English Department, SUNY-Nassau
Garden City, New York
August 29, 2018
E-mail: [email protected]