Re-engineering Homowo To Pave The Way For Rectitude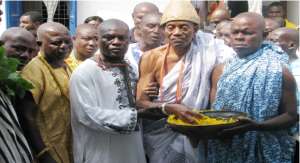 I know this sounds preposterous to the goodly person; how could a traditional festival instigates a righteous life? Most of us are pretentious for some time now and had hidden behind closed doors to celebrate the festival from start to finish irrespective of our religious affiliations, but immediately it ends we then term it as savage. Anyway, talking about culture; I only believe in certain aspects of it that commensurate with God's dictum and common sense at large. Our ancestors had done a tremendous effort by keeping this cultural nugget alive although it is deteriorating in terms of its celebration as time goes-by in some Ga-Adangme communities. The people of Ga-Mashie have revamped and forklifted its annual Hɔmɔwɔ festival to the zenith, and it is now attracting wholesome cash from sponsors, people from the globe and the President of Ghana, Nana Akuffo Addo, for the first time, call it Chale-Wote.
READ THIS ALSO:https://youthoflacentralmosque.wordpress.com/2018/08/24/bagbin-could-be-religious-averse-as-he-scoffs/
We have learnt from our elders that until the lion has his own storyteller the hunter will always have the best of stories. Those of us who have not yet understood the traditional rites of the festival must give it a second thought to see if there is any scintilla of good that could be gleaned from it. This can be done by carefully analysing some of the precursors of the rites which is held prior to the celebration of the main festival. So the importance of relooking at some of the rites which is performed must not be over emphasized, we could garnish it in a more fruitful way to possibly instigate righteousness thereafter, trust me! The Hɔmɔwɔ and its rites are tagged as mundane but these aspersions are dwindling almost every year due to the number of people getting themselves involved in the celebration. The Hɔmɔwɔ celebration comes with certain taboos which tradition has unearthed and it is enforceable not only by the ruling king or Chief but the indigenous people to ensure that everybody remains steadfast for the laws of the land to be operationalized, thereby failure to do so would result to physical and spiritual chastisement or untimely death as the traditional people believe.
READ THIS: https://youthoflacentralmosque.wordpress.com/2018/08/30/re-engineering-homowo-to-pave-the-way-for-rectitude/
The ubiquitous of ban on noise making which everyone is and must comply to the directives of no music played at church, home, strident claps and the likes. The locals of the land cherish this ban anytime the festival occasions it, so they are seen acting as community's vigilantes by reporting those who defy the orders of the king.
In short, everybody performs collaboratively and mannerly to forestall any tendency of becoming abets of law breakers to protect the cultural heritage and ensure that the mood of the celebration remains in a good aura. On Tuesday night which is the eve of Wednesday in La, the day for the celebration, a curfew is announced by the king of the Land to cautioned the locals that this evening cleansing of the stool and its houses would take place and thus people are required to sleep early. They are indeed expected to sleep or be inside their rooms and not be seen at the time the shrines are cleansed. The vendors on the road side, passer-by and naysers all are compelled to hold unto this rite. If you had passed by in any of the townships of La no one would alarm you that there is a curfew, the atmosphere would look serene. La Homowo has one special activity done on this Wednesday ["Hɔmɔwɔ shɔ"] called the "shakamɔ" where people from all environs [especially La-Kpee in UK] would come to La and engage in this atmosphere of we-feeling which is embracing each other, shaking hands and then invoking prosperous incantations unto one another for him to meet the coming year with God's blessings.
READ THIS: https://youthoflacentralmosque.wordpress.com/2018/08/21/eidul-adha-evinces-the-power-of-warding-off-evil/
We can draw some moral principles from the aforementioned three rites of the festival of the people of La which is not dissimilar to other festivals celebrated across Ghana. The obvious books have forbidden a lot of things and to some extent showed us what happened to those people who did not listen to God's dictum but fulfilled their wishful desires instead. For example, the life of the Sodomites which today has become the talk of the moment and we have become the real rejecters of God's injunctions without thinking; having canal knowledge with the opposite sex is seen as human right in the Ga communities nowadays! But the moment the ban on noise making is announced everybody comply, it is unbelievable! The gays and the lesbians do not keep aloof from the ban but yet meet each other for the evil paramours! Young girls who fail to dress modestly and even gimmick that Marry [as] the mother of Jesus [as] was seen well covered because they were out of fashion and are primitive people then. The ban compels these same people to be law abiding indigenous people to the extent that they would not dare to play a music on their phone via loud speaker because of phobia of being sanctioned at the high Priest's house. Similarly, young boys who are adamant with their chosen way of life [bushy hair style, ganger them and tramadol enthusiasts] are seen paying obeisance to the ban on noise making wholeheartedly and again forget that they also need to set a ban on smoking, immodest dressing, gayism so that they could be robust in not only making noise by their phones or at church but would not make noise with their diabolic ways which would trigger a righteous life!
READ THIS: https://youthoflacentralmosque.wordpress.com/2018/08/13/when-peter-is-rubbed-to-pay-paul-it-results-into-a-consolidation/
My contention however is that if our ancestors had incorporated the ten commandments into the rites of Hɔmɔwɔ and enforced it on its people, what would have been the attitude of the youth of today? Frankly, we would have been more God fearing than 'taboo fearing', knowing that there is a direct punishment which is meted out to those who flout it. Nobody forces us to sleep early during other days but yesterday people slept very early as long as 7 pm. We did not see the young thugs going out and returning home late in the night, yesterday was the day they had the opportunity to fulfil their parents' orders by the kind courtesy of Hɔmɔwɔ. As for today, Wednesday, people would rusticate themselves from where the economic turmoil of Ghana had banished them to and return to La just to enjoy the special 'shakamɔ' rite. Long feud between families are settled, family come together to burry dead, without the festival it might never had happened that way and the entire community for ones see themselves as one united people. The question is, has it not been mentioned by the obvious books that the second most important commandment is to establish or treat your neighbour as thy self and avoid severing ties of family [Mark 22:35-40]?
So why the double standards now? It is because we pay much reverence to the earthly gods which we fear they could forthrightly strike us with a calamity at the expense of taking God's punishment into due course. Our ancestors had done theirs and gone away, it us now left with us if only we could reengineer the Hɔmɔwɔ festival to propel the young ones to live a righteous life.
The veneer of the Homowo celebration must be lifted to ensure that we are going to capitalize on the chances it gives us to be forever law abiding citizens and also use the same strategy to serve the living God and not His creatures. If we do this not, then we have nobody to blame if things are not going well for us, for paradise is neither bread and butter nor a done deal. The idols [demons, Jinn] which we fear would punish us if we fail to pay reverence to them were also created by God in the manner in which we were created, the only difference is that they emanated from fire and we are from dust but both of us are with the sole purpose of serving God and it should be no one else! God has given us the free-will, the moment that we would go a step further in obeying God and do the right things, we stand being better than the Angels because after we have been given the free-will we chose to use it wisely whereas the Angels only have one option; to obey God, and thus the devil cannot be an Angel but a demon.
READ THIS: https://youthoflacentralmosque.wordpress.com/2018/07/27/atta-millss-regime-was-entirely-a-religious-legacy-of-peace/
Our priest must use their earthly powers to help the masses know God lest their power on this earth become so meaningless after death. I say, the only time I see people abiding to the decree of the land is when there is the ban on noise making, we can reinvest in it wisely.
Let us reengineer with the tools of what grips the minds of our people.
Afi o afi, afi aya ni eba nina wɔ.
Visit [YOUTHOFLACENTRALMOSQUE.WORDPRESS.COM/ YOUTHOFLACENTRALMOSQUE.FACEBOOK.COM] for more...
© Abdur Rahman Odoi Anum Pobee
[[email protected]]
Copyright © 2018. Youth of La Central Mosque, all right reserved. Permission is hereby given to circulate this write-up or any portion of it on other media platforms by strictly referencing the Blog or YouthOfLaCentralMosque without omission, interpolation or addition.