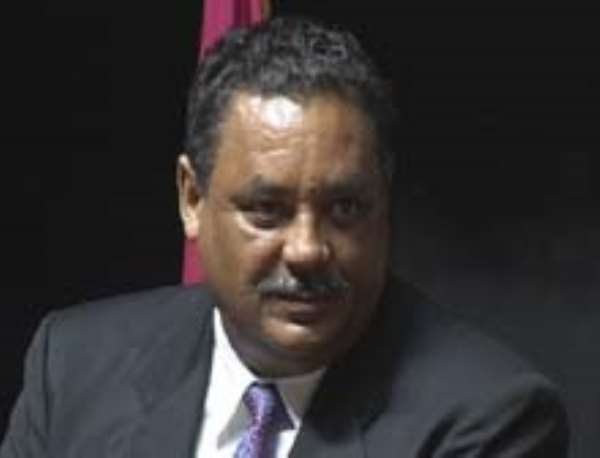 Accra, Oct 11, GNA - Marketing Ghana as the preferred tourist destination has been a difficult financial task, Mr Jake Obetsebi-Lamptey, Minister of Tourism and Modernisation of the Capital City said on Tuesday.
"Nevertheless, both the public and private sectors are using available resources to promote the country as a competitive and quality destination", the Minster said when he took his turn at the weekly meet-the press series organised by the Ministry of Information in Accra. Mr Obetsebi-Lamptey said the Ministry had for instance created a website to provide information on attraction facilities and services that Ghana could offer as tourism destinations and also produced souvenirs, which were being distributed to tour operators, investors, tourists and Ghana Missions abroad.
He said other programmes like multi-destination promotion activities with sister-countries, promotion of Ghanaian cuisine and the "Joseph Project" were all being embarked upon to promote the industry. "These interventions are all aimed at making Ghana a competitive and quality tourism destination within the framework of respect for the country's cultural, historical and environmental heritage." However, the Minister identified factors hampering the growth of the industry to include lack of awareness of the capacity of tourism as an agent for development, high cost of getting to destinations, weak human resource base and low investment.
He said to address the situation, a four-year strategic tourism plan had been prepared to provide focus for the achievement of targets, which included intensive awareness creation among corporate Ghana, incentive packages and grants that could be accessed by operators for investment. Mr Obetsebi-Lamptey said the Ministry had embarked on product development, involving the creation of receptive facilities at tourist sites, creation of land banks to encourage private sector investment in large-scale tourism resort and the setting up of a regional training academy at the premises of EREDEC Hotel in the Eastern Region to train personnel in the industry.
He said the high cost relating to airfares and accommodation was also being tackled with the introduction of charter flights, which the Ministry was encouraging companies to venture into to reduce air fares. The Minister announced that the Ministry was reconstituting an inter-ministerial committee, to be chaired by President John Agyekum Kufuor to help to create awareness in corporate Ghana. Responding to questions from Journalists Mr Obetsebi-Lamptey said the talks were still underway between representatives of the local community and Government officials on the establishment of the Bukom Square Project.
He said the Ministry was also collaborating with Accra Metropolitan Assembly (AMA) to relocate the street hawkers to a more appropriate space to enable them to earn a living.
He said the Ministry was also collaborating with the Ministry of the Interior to protect tourists and all Ghanaians from armed robbers.